Is F1 locking potential new teams out with entry fee increase?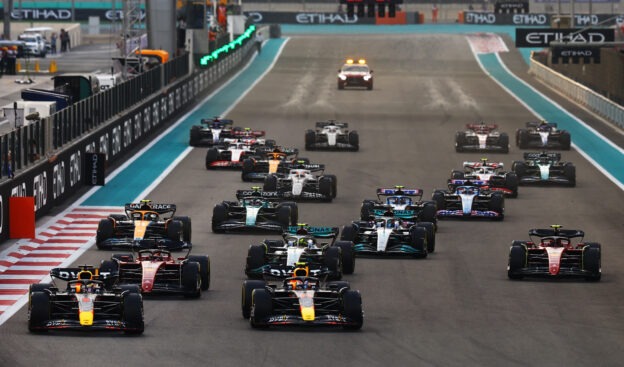 Feb.15 - Existing teams will soon discuss a proposal to raise the amount of money potential new entrants need to pay to enter Formula 1.
Currently, a keen Andretti-Cadillac collaboration is pushing to be welcomed to the sport for 2025 or 2026 but have called their potential rival teams "greedy" for rejecting their bid on financial grounds.
Nonetheless, McLaren supremo Zak Brown said a proposal to raise the entry fee beyond the current $200 million will be discussed at the next F1 Commission meeting in ten days.
"I haven't really discussed it yet with other teams, but it's on the agenda for the upcoming FIA committee meeting," he said.
"I think it's ultimately up to F1 and the FIA to decide what is an appropriate amount," Brown added. "When we came up with the entry fee almost five years ago, F1 was in a completely different place.
"So I think they should discuss and see what they think is appropriate."
Brown insisted raising the fee is not about locking potential new teams out, or milking the situation for selfish financial reasons.
"I mean, these franchises are worth quite a bit of money," said the American. "So it's an investment rather than a fee, because these franchises, if not already worth billions, certainly will be in the not too distant future.
"I've always been focused on how to make the pie bigger and less focused on how to get a bigger piece of a pie that doesn't grow," Brown insisted.
"And as long as a new team helps us get better TV deals, creates awareness that drives more sponsorship, and pays an appropriate franchise entry rate that's in line with what the value of what F1 is today, then we're in favour of having a maximum grid of 12 teams," he said.
Brown also backed the latest development in the rising tension between Liberty Media-owned Formula 1 and new FIA president Mohammed Ben Sulayem.
The FIA chief reacted last week by announcing that he is stepping back from intricate day-to-day involvement in F1.
"It got a bit exciting there over the winter," Brown laughed. "But things seem to have course corrected.
"Nikolas (Tombazis) is someone that we've been working with for quite some time, and he has done a very good job. We're very comfortable with him," said the McLaren CEO.
"So I think the FIA-Formula 1 relationship seems to be in a good place and I'm looking forward to a productive commission meeting."
---
✅ Check out more posts with related topics: