First comparison Sauber C36 VS Sauber C37 F1 car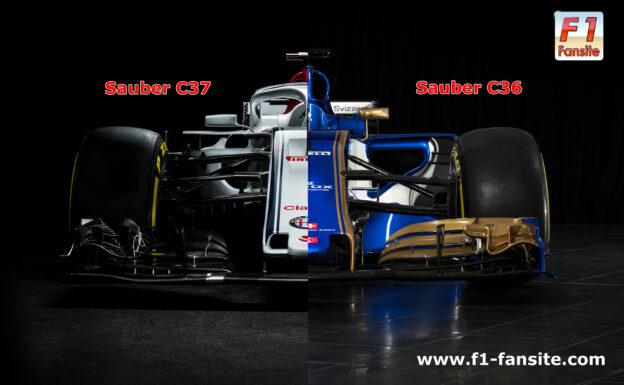 The new Alfa Romeo branded Sauber C37 F1 car has been launched on the 20th of February and we all could not wait to lay eyes on the new car of the new Ferrari's B-team.
When you look at the car for the first time you will notice the same kind of shape which looks the same as the car of last season. But when you compare it's predecessor the Sauber C36 to this years Sauber C37 in detail, you will see a lot has been changed on the car. Sauber worked hard to be a lot more competitive and close the gap to the rest of the field.
Last season Sauber ended up dead last in the 2017 F1 constructors championship and scored only 5 points. All of those 5 points were scored by rookie and ousted driver Pascal Wehrlein. Makes you wonder why Sauber chose to keep Marcus Ericsson for 2018.
The gap to McLaren who finished 9th was 25 points. McLaren had al lot of retirements due to the problematic Honda power unit. This season McLaren will preform a lot better with the Renault power unit and probably will end up somewhere around 4th to 6th place this season. So their real competitor is the US Haas F1 team. They ended up with a massif 43 point lead on Sauber and occupied 8th place. Hopefully the 2018 Sauber car will perform a lot better.
What's new on the 2018 Sauber car?
To become more competitive the Sauber team has changed the complete aerodynamic concept of the car. Looking at the pictures of the new Sauber C36 you will notice to following changes:
New front wing.
Nose to wing mount changed.
Very different front suspension and higher mounted.
Inner bardge board aerodynamic changes.
Outer bardge board is further developed and moved to the back.
Sidepod entrance hole has very different shape and has been split.
Halo off course :-(, but this is the first halo with a spoiler on top.
I bet we will see the same spoiler on Ferrari's car.
Mirrors have been moved to the back and are mounted to a lower position.
Engine cover inlet has been reduced.
Top of the engine cover shape has been changed from S-shape to D-shape.
Another big change for Sauber's 2018 performance is not shown on the pictures. But it will probably be the best upgrade for Sauber as they now will use the 2018 version of Ferrari's power unit. This will be a big step for the team, rumours say the 2018 Ferrari engine will have a 100 horsepower more.
See high resolution Sauber C37 pictures
See the 2018 Sauber C37 launch video
Do you see more? Please share them in our comments.
---
✅ Check out more posts with related topics: