Korean F1 GP in doubt as rogue North threatens nuclear war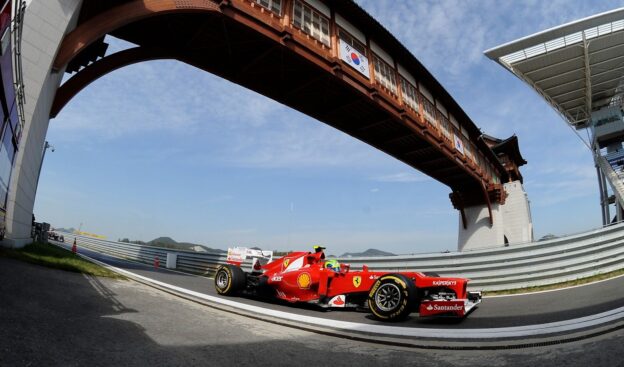 A cloud of uncertainty has moved above October's scheduled running of the Korean grand prix.
The tension between South Korea, home of F1's fourteenth round of the 2013 championship, and the rogue North has been escalating at an alarming rate in the past hours.
Most alarming is the rhetoric.
North Korean media quoted a regime spokesman as saying: "The situation on the Korean peninsula is inching close to a thermonuclear war due to the evermore undisguised hostile actions of the United States and the South Korean puppet warmongers".
And a bulletin on state-run North Korean television reportedly warned of an "all-out war, a merciless, sacred, retaliatory war".
"(North Korea) does not want to see foreigners in South Korea fall victim to the war," the bulletin reportedly continued, warning that "all foreigners, including tourists (should) take measures for shelter and evacuation".
Western foreign affair analysts, however, insist the threat of war is actually low, while the US embassy said that "despite current political tension", there is "no specific info to suggest there are imminent threats" to peace.
Moreover, there have been no reports that suggest the huge North Korean army has been briefed for a major war.
"The (US) embassy has not changed its security posture and we have not recommended that US citizens who reside in, or plan to visit, the republic of Korea take special security precautions at this time," it added.
The latest reports, however, say spy satellites have identified two North Korean nuclear-capable missiles that are ready for launch, and that the US is deploying a missile defence system to Guam.
Japan is also on the alert, with missile interceptors moved to key locations around Tokyo.
The border to China has been closed and tourists are being turned back, with a border official confirming the "North Korean government is now asking foreign people to leave".
United Nations secretary-general Ban Ki-Moon warned that if the "very dangerous" situation is not handled correctly, it could become "uncontrollable".
---
✅ Check out more posts with related topics: