HRT boss: First taste of HRT was 'total disaster'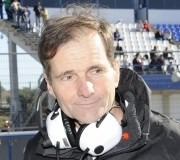 HRT boss Luis Perez-Sala has admitted his first taste of the struggling Spanish team was not a happy one.
The former Minardi driver was appointed by HRT's new owners Thesan Capital last year.
His first taste of life at HRT under his predecessor Colin Kolles' rule was at the 2011 British grand prix.
"What I saw, I did not like," Perez-Sala told El Pais newspaper.
"It was a total disaster. There was no organisation, no credibility. No aerodynamic research. No home, no identity.
"Everything was outsourced. No technician was based at the same place. They said it was a Spanish team, but there was nothing Spanish," he added.
Since then - even though HRT remains at the rear of the grid - a lot has changed. Perez-Sala, who has overseen the team's relocation to plush headquarters in Madrid, said the restructuring followed an "autopsy" of HRT's first two seasons as Campos and Hispania.
"It was clear that Pedro (de la Rosa) had to be with us," he explained. "He was the key.
"He was Spanish, he is experienced, he is honest. He has been more than ten years in formula one, knows everyone and knows how to develop a car with the mechanics and the engineers.
"He contributes a lot as a driver, but having him with us helps us to grow, to have a plan without taking stabs in the dark."
De la Rosa, who was enticed by Sala to join HRT despite being offered only half the pay of his McLaren reserve role, admits he too had a "bad" first impression of the team.
"They had been in formula one two years and yet it did not look like a serious project. They had a bad structure that was difficult to change.
"I wanted to sign before, but I had no trust. When I saw Luis was there, I thought about it.
"Then there were some good arguments: to race again with a team with a Spanish license, Spanish bosses, mechanics and engineers, a Spanish driver.
"I liked the idea of being here (in Spain) not in England where the other teams are, but to create something different and a structure that is staying in Spain. It sounded good," said de la Rosa.
HRT's chief executive Saul Ruiz de Marcos revealed that the team's budget in 2012 is EUR 50 million, which is seven times less than the biggest teams, and half that of immediate competitor Caterham.
"If we succeed, we can get sponsors and make money in three years," he said. "The secret is to spend every last euro to develop the car aerodynamically, which is where you gain the most time."
De Marcos said one strategy is to "get closer" to the lucrative Indian and Chinese markets, which have not yet been fully tapped by formula one.
"We already have a driver of Indian nationality, Narain Karthikeyan," he said, "and we are developing what will be the first Chinese driver in the history of formula one, Ma Qing Hua."
---
✅ Check out more posts with related topics: