2023 Singapore F1 GP Friday analysis by Peter Windsor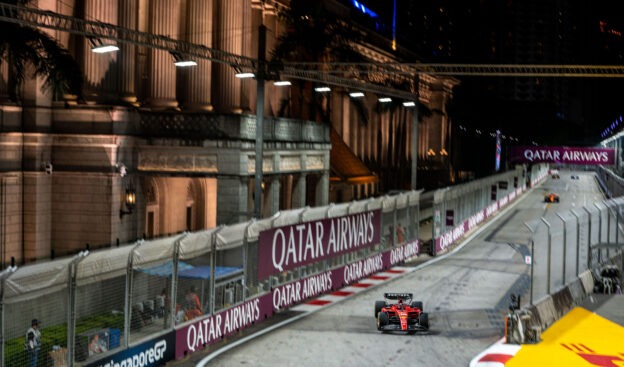 Ferrari's dominance in both Friday sessions in Singapore has set the Marina Bay Circuit ablaze with excitement. As the sun dipped below the horizon, the Scuderia roared to a spectacular 1-2 finish, leaving spectators and rivals in awe.
But don't let the prancing horses steal all the limelight. Mercedes, McLaren, and Aston Martin have emerged as dark horses in the race, showing remarkable pace and potential. The paddock is buzzing with anticipation, and the Singapore Grand Prix promises to be a thriller.
Yet, amidst the contenders, one question lingers like exhaust fumes in the night air - what about Red Bull? Surprisingly, the energy drink team struggled to find their rhythm, whether it was in the nimble qualifying simulations or the heavy-fuel, race-simulation runs.
In a gripping video, the renowned F1 analyst, Peter Windsor, delves into the enigma surrounding Red Bull's performance. Could it be a setup quirk? A strategic gamble? Or is there more than meets the eye? Windsor's insights promise to unravel the mystery.
It's important to remember, though, that Fridays are often a canvas for experimentation. Red Bull has ample time to fine-tune their machine and mount a formidable challenge. The Marina Bay showdown, set to unfold under the dazzling lights on Sunday, is gearing up to be a showdown of titanic proportions.
Peter Windsor, who boldly forecasted Ferrari's resurgence at Marina Bay in his livestream last week, also peels back the layers on the Scuderia's day, dissecting their performance with the precision of a pit stop. Moreover, he casts his discerning eye over the pace of the other key contenders, adding layers of intrigue to this electrifying weekend.
In the heart of Singapore's glittering night, the F1 world holds its breath. Will Ferrari's red-hot form continue, or will the challengers rise to the occasion? Red Bull's fate remains a tantalizing mystery, and the Marina Bay Circuit is the stage for a high-stakes drama that no Formula 1 fan should miss. Stay tuned as we hurtle towards an unforgettable Singapore Grand Prix.
---
✅ Check out more posts with related topics: