F1 Nation: Dutch F1 Grand Prix Review Podcast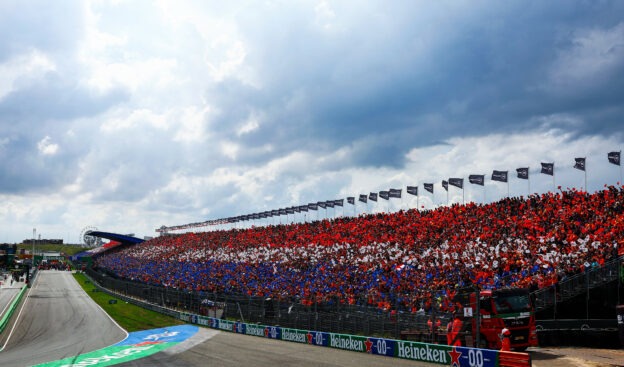 Amidst relentless downpours at the race commencement, compounded by the appearance of a safety car and persistently inclement weather, not even these challenging circumstances could thwart Max Verstappen's triumphant clinching of victory on his native circuit for the third consecutive year. This remarkable feat also saw him match the historical record set by
Sebastian Vettel
in 2013, securing nine consecutive wins within a single season.
Anticipation now looms regarding the extent to which this impending triple World Champion will extend his remarkable streak in the ongoing 2023 season. Engaging in a comprehensive analysis of how the Dutch sensation adeptly navigated a plethora of adversities en route to his victory, host Tom Clarkson engages in a riveting discussion with Christian Menath, esteemed contributor at Motorsport Magazin in Germany, and Julianne Cerasoli, a distinguished F1 journalist hailing from Brazil.
In the aftermath of the Zandvoort race, deliberations ensue over the strategic prowess demonstrated by various teams. A particular spotlight shines on the exemplary performances of Aston Martin and Alpine, with Fernando Alonso and Pierre Gasly securing coveted spots on the podium. The decision-making acumen of McLaren and Mercedes also comes under scrutiny.
Beyond the podium finishers, the conversation features insights from an array of motorsport personalities. Raymond Vermeulen, the adept manager of Max Verstappen, shares his perspective, while the Ferrari duo comprising Carlos Sainz and Charles Leclerc provide their own reflections on the race proceedings. This holistic narrative encapsulates the relentless spirit of F1 racing, where mastery over both machine and weather spells the difference between victory and defeat.
---
✅ Check out more posts with related topics: