F1 Nation: 2023 Austrian F1 Grand Prix Podcast Review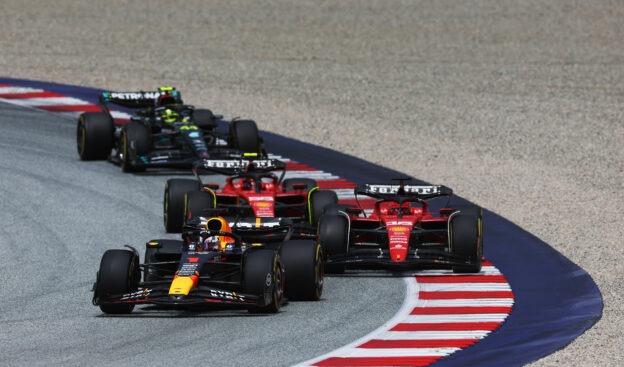 In a spectacular display at the Red Bull Ring, the Austrian Grand Prix proved to be an unforgettable event. Max Verstappen, driving for Red Bull, dominated the weekend by securing victory in the Sprint Race on Saturday, triumphing in the 71-lap main race on Sunday, and securing an additional point for the fastest lap. Verstappen's flawless performance not only solidified his position at the top of the Championship standings but also extended his lead over teammate Sergio Perez to a substantial 81 points.
To delve into the exhilarating weekend of racing that unfolded at the Austrian Grand Prix, Tom Clarkson was joined by esteemed guests Diego Mejia from Fox Sports Mexico and Silja Rulle from Bild. Together, they meticulously analyzed the enthralling on-track battles, highlighted the contentious issues surrounding track limits, discussed the thrilling wheel-to-wheel duels, and emphasized the significant presence of wet conditions throughout the event. Additionally, the podium return of Ferrari's Charles Leclerc added an extra layer of excitement to the race.
The insights shared in the discussion extended beyond the analysis of the races. The podcast featured exclusive interviews with key figures from the Red Bull team, including both drivers Max Verstappen and Sergio Perez, as well as their Chief Technical Officer Adrian Newey. McLaren Team Principal Andrea Stella provided valuable commentary on Lando Norris's impressive fourth-place finish, while Alpine Team Principal Otmar Szafnauer, Williams' Alex Albon, and former Austrian F1 driver Alex Wurz also offered their perspectives on the thrilling weekend of Formula 1 action at the Red Bull Ring.
The exhilarating Austrian Grand Prix not only showcased Verstappen's dominance but also provided fans with unforgettable moments of high-stakes racing and intense competition. The diverse range of opinions and insights presented in the podcast episode offered a comprehensive overview of the captivating weekend, ensuring F1 enthusiasts had a deeper understanding of the on-track battles and off-track developments that unfolded at the Red Bull Ring
---
✅ Check out more posts with related topics: