Second Free Practice Results 2022 Mexico F1 Grand Prix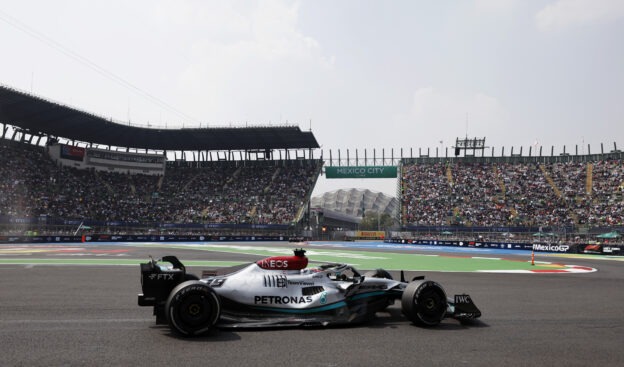 Event: Mexico Grand Prix
Track: Autodromo Hermanos Rodriguez
Weather: dry  29.4°C
Tarmac: dry  38.0°C
Humidity : 35%
Wind : 1.0 m/s S
Pressure: 770 bar
This second free practice for the 2022 Mexico Grand Prix was also a sort of tyre test and quite boring to watch and took 1.5 hours.
The teams just had to run around with a set of tyres they had no clue on what kind of tyres they were. With one hour to go Ferrari driver Charles Leclerc crashed the F1-75 backward at turn 10 and caused a red flag to recover the Ferrari and repair the barrier.
With 40 minutes to go this FP2 session was restarted.
The quickest lap time of last years FP2 was a 1:17,301 min driven by Max Verstappen with the Red Bull.
FP2 Times Table 2022 Mexico F1 GP
| | | | | | | | |
| --- | --- | --- | --- | --- | --- | --- | --- |
| P | No | Driver | Team | Time | 1st Gap | Laps | Tyres |
| 1 | 63 | George Russell | Mercedes | 1:19,970 | | 32 | S |
| 2 | 22 | Yuki Tsunoda | AlphaTauri | 1:20,798 | +0,828s | 30 | S |
| 3 | 31 | Esteban Ocon | Alpine | 1:21,177 | +1,207s | 31 | S |
| 4 | 44 | Lewis Hamilton | Mercedes | 1:21,509 | +1,539s | 32 | T |
| 5 | 11 | Sergio Pérez | Red Bull | 1:21,579 | +1,609s | 34 | T |
| 6 | 1 | Max Verstappen | Red Bull | 1:21,588 | +1,618s | 34 | T |
| 7 | 16 | Charles Leclerc | Ferrari | 1:21,618 | +1,648s | 13 | T |
| 8 | 55 | Carlos Sainz | Ferrari | 1:21,693 | +1,723s | 34 | T |
| 9 | 77 | Valtteri Bottas | Alfa Romeo | 1:21,993 | +2,023s | 36 | T |
| 10 | 10 | Pierre Gasly | AlphaTauri | 1:22,104 | +2,134s | 36 | T |
| 11 | 14 | Fernando Alonso | Alpine | 1:22,337 | +2,367s | 31 | T |
| 12 | 5 | Sebastian Vettel | Aston Martin | 1:22,371 | +2,401s | 32 | T |
| 13 | 23 | Alexander Albon | Williams | 1:22,447 | +2,477s | 24 | S |
| 14 | 4 | Lando Norris | McLaren | 1:22,738 | +2,768s | 31 | T |
| 15 | 3 | Daniel Ricciardo | McLaren | 1:22,763 | +2,793s | 27 | T |
| 16 | 18 | Lance Stroll | Aston Martin | 1:22,840 | +2,870s | 23 | T |
| 17 | 47 | Mick Schumacher | Haas | 1:22,879 | +2,909s | 31 | T |
| 18 | 20 | Kevin Magnussen | Haas | 1:23,316 | +3,346s | 21 | T |
| 19 | 6 | Nicholas Latifi | Williams | 1:23,320 | +3,350s | 34 | T |
| 20 | 24 | Zhou Guanyu | Alfa Romeo | 1:23,369 | +3,399s | 34 | T |
---
✅ Check out more posts with related topics: