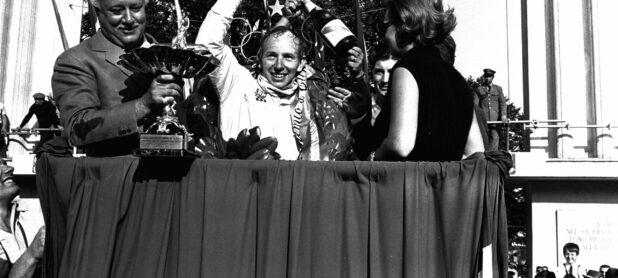 Event: Italian Grand Prix
Track: Autodromo Nazionale Monza
The 1967 Italian Grand Prix was won by John Surtees. It was his first win of the 1967 season and his last victory of this legendary driver.
He started the race from P9 and won the race with the Honda RA300 car and it was the 2nd ever race win for the Japanese constructor.
Classification 1967 Italian F1 GP
| Pos | No | Driver | Team | Time | Laps | Grid | Pts |
| --- | --- | --- | --- | --- | --- | --- | --- |
| 1 | 14 | John Surtees | Honda | 01:43:45.000 | 68 | 9 | 9 |
| 2 | 16 | Jack Brabham | Brabham | 01:43:45.200 | 68 | 2 | 6 |
| 3 | 20 | Jim Clark | Team Lotus | 01:44:08.100 | 68 | 1 | 4 |
| 4 | 30 | Jochen Rindt | Cooper-Maserati | 01:44:41.600 | 68 | 11 | 3 |
| 5 | 36 | Mike Spence | BRM | +1 lap | 67 | 12 | 2 |
| 6 | 32 | Jacky Ickx | Cooper-Maserati | +2 laps | 66 | 15 | 1 |
| 7 | 2 | Chris Amon | Ferrari | +4 laps | 64 | 4 | 0 |
| DNF | 22 | Graham Hill | Team Lotus | Engine | 58 | 8 | 0 |
| DNF | 6 | Jo Siffert | Cooper-Maserati | Accident | 50 | 13 | 0 |
| DNF | 24 | Giancarlo Baghetti | Team Lotus | Engine | 50 | 17 | 0 |
| DNF | 4 | Bruce McLaren | McLaren | Engine | 46 | 3 | 0 |
| DNF | 26 | Jo Bonnier | Cooper-Maserati | Overheating | 46 | 14 | 0 |
| DNF | 34 | Jackie Stewart | BRM | Engine | 45 | 7 | 0 |
| DNF | 18 | Denny Hulme | Brabham | Overheating | 30 | 6 | 0 |
| DNF | 12 | Guy Ligier | Brabham | Engine | 26 | 18 | 0 |
| DNF | 38 | Chris Irwin | BRM | Injection | 16 | 16 | 0 |
| DNF | 10 | Ludovico Scarfiotti | Eagle | Engine | 5 | 10 | 0 |
| DNF | 8 | Dan Gurney | Eagle | Engine | 4 | 5 | 0 |
Fastest lap: 1:28.500 min by Jim Clark (Team Lotus 49) in lap 26
 Check out 1967 F1 Championship Standings

 Check out 1967 F1 Teams & Drivers
 Check out All Time F1 Drivers Rankings

 Check out All Time F1 Driver Records

 Check out All Time F1 Teams Rankings
---
Check out more items on this website about:
---