Race Results 2022 French F1 Grand Prix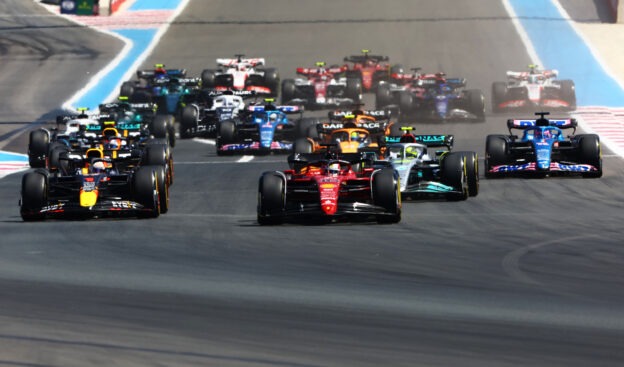 Event: French F1 Grand Prix
Track: Paul Ricard Circuit
Weather: dry  30.4-29.1°C
Tarmac: dry  51.1-56.8°C
Humidity : 43-54%
Wind : 2.0 m/s SE
Pressure: 968.0 bar
Max Verstappen won his 27th F1 race at the 2022 French F1 GP today. The Red Bull driver started from P2 and won on the Paul Ricard circuit for the second time in a row. It was his 7th win of the season. The Red Bull Racing team scored their 83rd race win.
2022 French F1 GP Race Report
The 62nd French Formula 1 Grand Prix started under very warm weather like usual. Almost all cars were fitted with medium tyres. Under a clear blue sunny sky all cars got away clean when the red lights went out.
Red Bull driver Sergio Pérez, who was having a tough weekend in terms of speed and started from P3, had a slower getaway than Lewis Hamilton who had a perfect start in the Mercedes beside him on P4. Hamilton took the opportunity right away to snatch  P3 from the Mexican driver before turn 1.
Charles Leclerc who started from pole position in the Ferrari #16 for the 16th time, could keep his main rival Max Verstappen in the Red Bull #1 behind him. Leclerc seemed to have the race win in the bag up till then. He had been under huge pressure the whole time and fended off a few attacks from Verstappen and had it all under control.
Haas driver Kevin Magnussen who started from the very last place, due to several power unit related grid penalties had an amazing start and overtook 7 cars to end up on P13 just after 1 lap! The other Ferrari driver Carlos Sainz, who also had to start from the back of the grid, because of several grid penalties started on hard tires. The Spanish driver had to get up to speed to get to the front. He still was 19th after the first lap.
In lap 9 Magnussen was the first driver who made a pitstop. Sainz was getting up to speed now and was already 11th in lap 13.
The Dutchman was pushing Leclerc all the way he was closer than 1 sec. and could use his DRS to try and get the lead, but he couldn't and was overheating his tyres. The Red Bull Racing team then choose to pit Verstappen in lap 16 to try and undercut Leclerc. That strategy put even more pressure on race leader Leclerc and caused him to push too much in the middle of turn 11 and lost the rear and spun off and ended up head on in to the barrier.
A safety car was deployed to recover the Ferrari of  Leclerc and both Mercedes drivers took a "free" pitstop to switch hard tyres. Sainz also pitted to get a fresh set of medium tyres, but the Ferrari team delivered a poor pistop that took way to long and also caused an unsafe release, that got Sainz a five second penalty.
Then in lap 27 Sainz who was already behind George Russell and had a great fight with the Mercedes driver for P4. The Spanish driver choose for a bold move around the outside of turn 10 and now was closing down the gap to Pérez for P3.
Magnussen and Williams driver Nicholas Latifi collided in turn 2 of lap 38. Both went off the track and were able to continue.
Sainz had closed the gap towards Pérez in lap 41 and again had a great fight for P3. Sainz overtook him one lap later on track and was going very strong on his medium tyres. One lap later the Ferrari team decided to still pit Sainz for new medium tyres while there were only 10 laps to go.
Russell had also closed down the gap towards Pérez in lap 43 and wanted to get on the podium. He did several attempts to get passed the Red Bull driver but couldn't make it stick. Russell then launched a very good planned attack at the end of a virtual safety car period. The VSC was used to recover the stranded Alfa Romeo of Zhou Guangyu. At the end of the VSC Russell had more momentum and passed Pérez in the last part of the sector 3.
In front Verstappen was leading Hamilton by more than 10 seconds. The Dutchman was able to benefit from the DNF of Leclerc and won the French F1 GP for the second time in a row. Verstappen scored his 27th race win and is now level with Jacky Stewart. Behind him Hamilton finished second for the first time this season and Russell made it a double podium by finishing on P3 for the Mercedes the first time this year.
Classification 2022 French F1 GP
| P | No | Driver | Team | Time | Laps | Grid | Pts |
| --- | --- | --- | --- | --- | --- | --- | --- |
| 1 | 1 | Max Verstappen | Red Bull | 01:30:02.112 | 53 | 2 | 25 |
| 2 | 44 | Lewis Hamilton | Mercedes | 01:30:12.699 | 53 | 4 | 18 |
| 3 | 63 | George Russell | Mercedes | 01:30:18.607 | 53 | 6 | 15 |
| 4 | 11 | Sergio Pérez | Red Bull | 01:30:19.422 | 53 | 3 | 12 |
| 5 | 55 | Carlos Sainz | Ferrari | 01:30:30.984 | 53 | 19 | 11 |
| 6 | 14 | Fernando Alonso | Alpine | 01:30:44.991 | 53 | 7 | 8 |
| 7 | 4 | Lando Norris | McLaren | 01:30:54.138 | 53 | 5 | 6 |
| 8 | 31 | Esteban Ocon | Alpine | 01:30:59.071 | 53 | 10 | 4 |
| 9 | 3 | Daniel Ricciardo | McLaren | 01:31:02.484 | 53 | 9 | 2 |
| 10 | 18 | Lance Stroll | Aston Martin | 01:31:04.661 | 53 | 15 | 1 |
| 11 | 5 | Sebastian Vettel | Aston Martin | 01:31:06.606 | 53 | 12 | 0 |
| 12 | 10 | Pierre Gasly | AlphaTauri | 01:31:07.560 | 53 | 14 | 0 |
| 13 | 23 | Alex Albon | Williams | 01:31:10.677 | 53 | 13 | 0 |
| 14 | 77 | Valtteri Bottas | Alfa Romeo | 01:31:18.778 | 53 | 11 | 0 |
| 15 | 47 | Mick Schumacher | Haas | 01:31:22.506 | 53 | 17 | 0 |
| DNF | 24 | Zhou Guanyu | Alfa Romeo | Collision damage | 47 | 16 | 0 |
| DNF | 6 | Nicholas Latifi | Williams | Collision damage | 40 | 18 | 0 |
| DNF | 20 | Kevin Magnussen | Haas | Collision damage | 37 | 20 | 0 |
| DNF | 22 | Yuki Tsunoda | AlphaTauri | Collision damage | 17 | 8 | 0 |
| DNF | 16 | Charles Leclerc | Ferrari | Spun off | 17 | 1 | 0 |
Fastest lap: 1:35.781 min by Carlos Sainz, Ferrari F1-75 #55 in lap 51
✅ Check out F1 Standings 2022 Championship
✅ Check out F1 2022 Calendar
✅ Check out All Time F1 Drivers Rankings
✅ Check out All Time F1 Driver Records
✅ Check out All Time F1 Teams Ranking
---
✅ Check out more posts with related topics: