Race Results 2021 Abu Dhabi F1 Grand Prix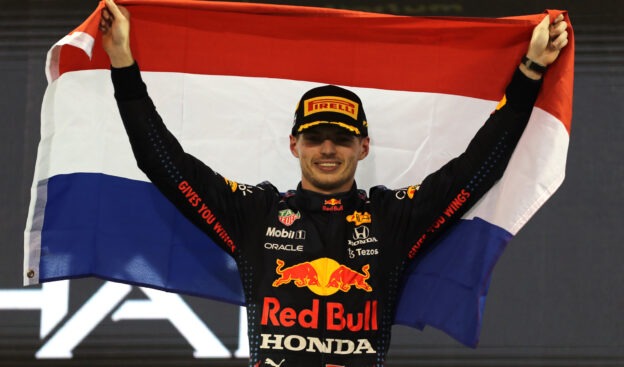 Event: Abu Dhabi Grand Prix
Track: Yas Marina Circuit
Weather: dry 28.6°C
Tarmac: dry 34.6°C
Humidity: 69%
Wind: 0.2 m/s SE
Pressure: 1012.8 bar
Max Verstappen scored his 20th race win today. The Dutch driver won the Abu Dhabi F1 GP for the second time. It was his 10th race win of the 2021 season. The Red Bull driver started from pole. It was the 75th race win for Red Bull.
2021 Abu Dhabi F1 GP Race Report
The start of the race was clean, but pole sitter Max Verstappen was passed right away at the start. Lewis Hamilton had the perfect start and did everything right to try and win his eight drivers championship title.
The rest of the report will follow later
Classification 2021 Abu Dhabi GP
| P | No | Driver | Team | Time | Laps | Grid | Pts |
| --- | --- | --- | --- | --- | --- | --- | --- |
| 1 | 33 | Max Verstappen | Red Bull | 01:30:17.345 | 58 | 1 | 26 |
| 2 | 44 | Lewis Hamilton | Mercedes | 01:30:19.601 | 58 | 2 | 18 |
| 3 | 55 | Carlos Sainz | Ferrari | 01:30:22.518 | 58 | 5 | 15 |
| 4 | 22 | Yuki Tsunoda | AlphaTauri | 01:30:23.037 | 58 | 8 | 12 |
| 5 | 10 | Pierre Gasly | AlphaTauri | 01:30:23.876 | 58 | 12 | 10 |
| 6 | 77 | Valtteri Bottas | Mercedes | 01:30:24.808 | 58 | 6 | 8 |
| 7 | 4 | Lando Norris | McLaren | 01:31:16.545 | 58 | 3 | 6 |
| 8 | 14 | Fernando Alonso | Alpine | 01:31:19.053 | 58 | 11 | 4 |
| 9 | 31 | Esteban Ocon | Alpine | 01:31:21.371 | 58 | 9 | 2 |
| 10 | 16 | Charles Leclerc | Ferrari | 01:31:23.402 | 58 | 7 | 1 |
| 11 | 5 | Sebastian Vettel | Aston Martin | 01:31:24.872 | 58 | 15 | 0 |
| 12 | 3 | Daniel Ricciardo | McLaren | 01:30:20.926 | 57 | 10 | 0 |
| 13 | 18 | Lance Stroll | Aston Martin | 01:30:25.327 | 57 | 13 | 0 |
| 14 | 47 | Mick Schumacher | Haas | 01:30:25.947 | 57 | 19 | 0 |
| DNF | 11 | Sergio Pérez | Red Bull | Technical | 55 | 4 | 0 |
| DNF | 6 | Nicholas Latifi | Williams | Crash | 50 | 16 | 0 |
| DNF | 99 | Antonio Giovinazzi | Alfa Romeo | Gearbox | 33 | 14 | 0 |
| DNF | 63 | George Russell | Williams | Gearbox | 26 | 17 | 0 |
| DNF | 7 | Kimi Räikkönen | Alfa Romeo | Brakes | 25 | 18 | 0 |
| DNS | 9 | Nikita Mazepin | Haas | COVID-19 | 0 | 20 | 0 |
Fastest lap: 1:26.103 min by Max Verstappen, Red Bull RB16B (no.33) in lap 39
✅ Check out F1 Standings 2021 Championship
✅ Check out F1 Teams & Drivers 2021 Overview
✅ Check out F1 2021 Calendar
✅ Check out All Time F1 Drivers Rankings
✅ Check out All Time F1 Driver Records
✅ Check out All Time F1 Teams Ranking
---
✅ Check out more posts with related topics: