Race Results 2019 Mexico F1 Grand Prix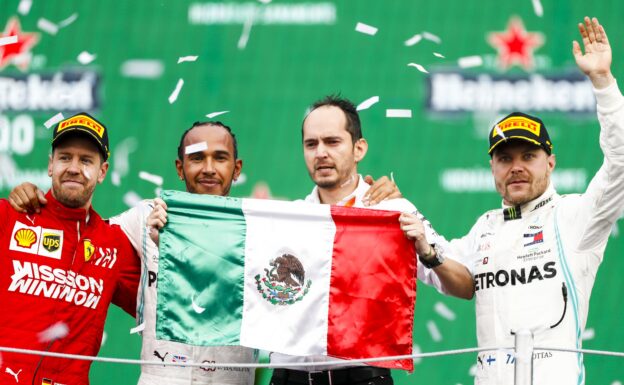 Event: Mexico Grand Prix
Track: Autodromo Hermanos Rodriguez
Weather: Dry 22.3°C
Tarmac: Dry  38.6°C
Humidity: 48.2%
Wind: 2.0 m/s S
Pressure: 781.1 bar
Lewis Hamilton won the 2019 Mexico F1 GP. He started from P3 and won for the 2nd time in Mexico. It was his 10th win of the season, his 83rd career win and win number 100 for Mercedes. 
The start was quite clean. Max Verstappen tried to pass 4 times Lewis Hamilton in turn 1 but would not heal for the Dutchman and both went of in turn 2. At the end of lap 1 Verstappen was on P8 and at the end of the lap 1 a VSC was deployed to clean up the track.
In lap 5 Verstappen had a flat tyre after passing Valterri Bottas in the stadium section and had to switch to hard tyres to try and go to the end.
In lap 15 and 16 a lot of cars pitted to get new tyres. Alexander Albon and Charles Leclerc both switched to medium. Hamilton pitted in lap 24 to the hard tyre and dropped behind Leclerc on P4.
In ap 44 Charles Leclerc had a bad pitstop while pitting for the lead that cost him 4s. In lap 51 Lando Norris was retired.
Classification 2019 Mexico GP
| P | No | Driver | Team | Time | Laps | Grid | Pts |
| --- | --- | --- | --- | --- | --- | --- | --- |
| 1 | 44 | Lewis Hamilton | Mercedes | 01:36:48.904 | 71 | 3 | 25 |
| 2 | 5 | Sebastian Vettel | Ferrari | +0 laps | 71 | 2 | 18 |
| 3 | 77 | Valtteri Bottas | Mercedes | +0 laps | 71 | 6 | 15 |
| 4 | 16 | Charles Leclerc | Ferrari | +0 laps | 71 | 1 | 13 |
| 5 | 23 | Alex Albon | Red Bull | +0 laps | 71 | 5 | 10 |
| 6 | 33 | Max Verstappen | Red Bull | +0 laps | 71 | 4 | 8 |
| 7 | 11 | Sergio Pérez | Racing Point | +0 laps | 71 | 11 | 6 |
| 8 | 3 | Daniel Ricciardo | Renault | +0 laps | 71 | 13 | 4 |
| 9 | 10 | Pierre Gasly | Toro Rosso | +1 lap | 70 | 10 | 2 |
| 10 | 27 | Nico Hülkenberg | Renault | +1 lap | 70 | 12 | 1 |
| 11 | 26 | Daniil Kvyat | Toro Rosso | +1 lap | 70 | 9 | 0 |
| 12 | 18 | Lance Stroll | Racing Point | +1 lap | 70 | 16 | 0 |
| 13 | 55 | Carlos Sainz | McLaren | +1 lap | 70 | 7 | 0 |
| 14 | 99 | Antonio Giovinazzi | Alfa Romeo | +1 lap | 70 | 15 | 0 |
| 15 | 20 | Kevin Magnussen | Haas | +2 laps | 69 | 17 | 0 |
| 16 | 63 | George Russell | Williams | +2 laps | 69 | 19 | 0 |
| 17 | 8 | Romain Grosjean | Haas | +2 laps | 69 | 18 | 0 |
| 18 | 88 | Robert Kubica | Williams | +2 laps | 69 | 20 | 0 |
| DNF | 7 | Kimi Räikkönen | Alfa Romeo | Overheating | 58 | 14 | 0 |
| DNF | 4 | Lando Norris | McLaren | Power unit | 48 | 8 | 0 |
Penalties
Daniil Kvyat, Toro Rosso car no.27 received a 10 sec penalty for causing a collision with Nico Hulkenberg (Renault)
Fastest lap : 1:19.232 min by Charles Leclerc, Ferrari no.16 in lap 53
Highest speed :359.7 km/h by Sergio Pérez, Racing Point no.11
---
Check out 2019 Mexico F1 GP Timelapse

 Check out 2019 F1 Championship Standings
✅ Check out 2019 F1 Calendar
✅ Check out All Time F1 Drivers Rankings
✅ Check out All Time F1 Driver Records
✅ Check out All Time F1 Teams Rankings
---
✅ Check out more posts with related topics: