Race Results 2019 British F1 Grand Prix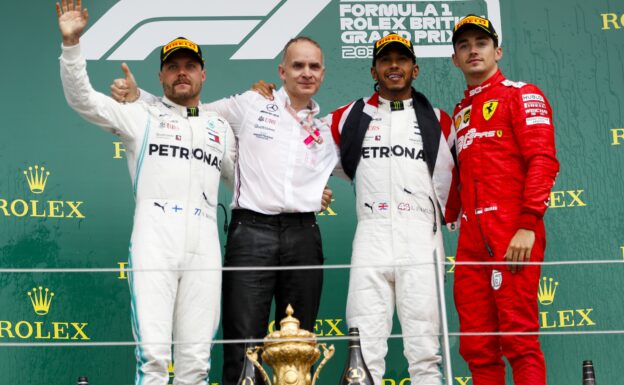 Event: British Grand Prix
Track: Silverstone Circuit
Weather:  Dry 18.3°C
Tarmac: Dry 29.6°C
Humidity: 66.1%
Wind: 2.8 m/s E
Pressure: 1006.4 bar
Lewis Hamilton scored his 80th F1 victory and the 96th win for Mercedes today. Valtteri Bottas came home as 2nd and made it the 51st 1-2 finish for Mercedes. It was the 7th race win of the season for Hamilton.
The start was clean. Only Lando Norris and Pierre Gasly had a small collision in turn 2 with no problem. Hamilton was all over Bottas in the first lap, but survived the first couple of attacks. Bottas out-braked himself in the last corner for the finish, but could parade the following attack of his Mercedes team mate again.
Both Haas drivers Romain Grosjean and Kevin Magnussen collided coming out of turn 14 and to pit for new tyres to get lapped by both Mercedes' drivers already in lap 3.
In lap 4 Hamilton passed Bottas at Brooklands, but Bottas was able to retain the lead with a brave move on the inside of Copse corner.
In lap 11 a fierce battle between both Ferrari and Red Bull drivers was going on for P3, first Verstappen was having a try on Leclerc for P3, but Leclerc defend brilliantly and caused Vettel to be threat for his P4. A lap later Gasly passed Vettel on the track for P5.
Gasly made the first pitstop of the top 6 and switched from medium to hard tires..A lap later both Leclerc and Verstappen pitted for new tyres. The Red Bull Racing pit crew did a better job than the Ferrari crew that gave Verstappen the advantage to pass him coming out of the pit lane. But Leclerc choose a better line in turn 3 and passed Verstappen coming out of turn 4.
Race leader Valtteri Bottas pitted in lap 17 switched to the hard tyre and returned to the track on P3 behind Vettel. Verstappen was all over Leclerc's Ferrari and had an epic battle with lots of exciting moments in almost every corner for several laps.
In lap 20 Antonio Giovinazzi's spun off in the Alfa Romeo and caused a safety car period. Race leader Hamilton, Vettel and Verstappen came in quickly to switch to new tyres to go to the end. One lap later Leclerc also did a pitstop to switch to hard tyres to go to the end but lost his position to Vettel, Gasly and Verstappen..When Leclerc came back on track he asked on the radio: "How in the hell did we lose that place?".
After the restart the battle between Verstappen & Leclerc continued with some great overtaking and defending. Sergio Pérez lost his front wing of his Racing Point at Brooklands when he collided when he tried to pass Hulkenberg's Renault
Leclerc lost speed when he asked if something was broken on the left side of his Ferrari. He picked up the pace a few laps later when Verstappen passed Gasly for P4 in lap 27.
Max Verstappen was driving towards Vettel to have a go for P3. In lap 34 he closed the gap down to less than 1 second to get into the DRS zone of Vettel's Ferrari to try and pass him on one of the straights. Leclerc overtook Gasly on lap 36 in turn 4. One lap later Verstappen overtook Vettel on Hanger straight and gone a bit wide in Stowe, Vettel tried to retake his P3 the next turn but made a huge judgement error. Vettel crashed into the back of Verstappen's Red Bull and almost eliminated himself and Verstappen. Both were able to go on, Verstappen returned to the track as 6th and overtook the limping car of Vettel. Vettel did a pit stop to get new tyres and a new nose to return as dead last. The German also received a 10 sec. time penalty for causing a collision and apologised to Verstappen right after the race.
In lap 46 Bottas made a second pit stop to go to Soft tyres, to try and receive an extra point for the fastest lap. He had it in the bag until the last lap, when Hamilton reclaimed the fastest lap for the full 26 points.
✅ Check out 2019 British F1 GP Pictures
✅ Check out 2019 British F1 GP Timelapse Animation
✅ Check out 2019 F1 Championship Standings
✅ Check out 2019 F1 Calendar
✅ Check out All Time F1 Drivers Rankings
✅ Check out All Time F1 Driver Records
✅ Check out All Time F1 Teams Rankings
Classification 2019 British GP
| P | No | Driver | Team | Time | Laps | Grid | Pts |
| --- | --- | --- | --- | --- | --- | --- | --- |
| 1 | 44 | Lewis Hamilton | Mercedes | 01:21:08.452 | 52 | 2 | 26 |
| 2 | 77 | Valtteri Bottas | Mercedes | 01:21:33.380 | 52 | 1 | 18 |
| 3 | 16 | Charles Leclerc | Ferrari | 01:21:38.569 | 52 | 3 | 15 |
| 4 | 10 | Pierre Gasly | Red Bull | 01:21:43.144 | 52 | 5 | 12 |
| 5 | 33 | Max Verstappen | Red Bull | 01:21:47.910 | 52 | 4 | 10 |
| 6 | 55 | Carlos Sainz | McLaren | 01:22:02.091 | 52 | 13 | 8 |
| 7 | 3 | Daniel Ricciardo | Renault | 01:22:02.853 | 52 | 7 | 6 |
| 8 | 7 | Kimi Räikkönen | Alfa Romeo | 01:22:13.992 | 52 | 12 | 4 |
| 9 | 26 | Daniil Kvyat | Toro Rosso | 01:22:15.172 | 52 | 17 | 2 |
| 10 | 27 | Nico Hülkenberg | Renault | 01:22:21.185 | 52 | 10 | 1 |
| 11 | 4 | Lando Norris | McLaren | 01:22:22.733 | 52 | 8 | 0 |
| 12 | 23 | Alexander Albon | Toro Rosso | 01:22:24.069 | 52 | 9 | 0 |
| 13 | 18 | Lance Stroll | Racing Point | 01:22:29.538 | 52 | 18 | 0 |
| 14 | 63 | George Russell | Williams | 01:21:23.858 | 51 | 19 | 0 |
| 15 | 88 | Robert Kubica | Williams | 01:21:34.638 | 51 | 20 | 0 |
| 16 | 5 | Sebastian Vettel | Ferrari | 01:21:34.913 | 51 | 6 | 0 |
| 17 | 11 | Sergio Pérez | Racing Point | 01:21:44.775 | 51 | 15 | 0 |
| DNF | 99 | Antonio Giovinazzi | Alfa Romeo | Spun off | 18 | 11 | 0 |
| DNF | 8 | Romain Grosjean | Haas | Puncture damage | 9 | 14 | 0 |
| DNF | 20 | Kevin Magnussen | Haas | Collision damage | 7 | 16 | 0 |
fastest lap : 1:25.093 min by Lewis Hamilton (Mercedes W10) on lap 52 @242.735 km/h
highest speed : 340.4 km/h by Lance Stroll (Racing Point RP19)
---
✅ Check out more posts with related topics: