Race Results 2019 Abu Dhabi F1 GP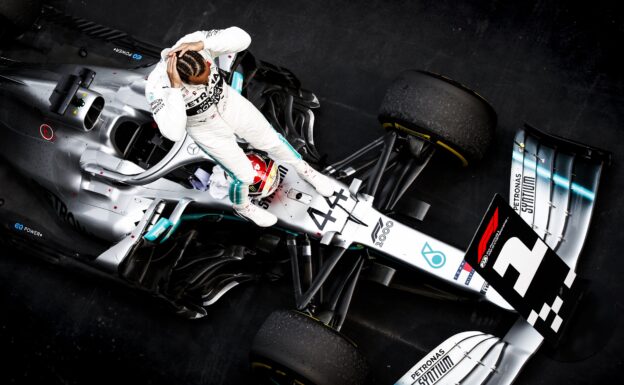 F1 Race Event: Abu Dhabi F1 Grand Prix
Race Track: Yas Marina Circuit
Weather: dry  26.8-24.9°C
Tarmac: dry  31.6-27.2°C
Humidity : 59.6-71.4%
Wind : 1.1 m/s E
Pressure: 1015 bar
Lewis Hamilton won the 2019 Abu Dhabi Formula 1 Grand Prix for the 3rd time in his career  It was his 84th win, his 11th win of the 2019 season and the 102nd victory for Mercedes.
The start of the race was clean and all cars got away. In turn 1 Pierre Gasly had some bad luck when Lance Stroll collided into the Toro Rosso driver and broke his front wing on the back of Sergio Perez. In the first lap Max Verstappen lost his P2 when Charles Leclerc passed the Red Bull driver on the first long straight. The Dutchman also had to defend Ferrari driver Sebastian Vettel who was the only driver who started on the soft tyres. Valtteri Bottas who had to start from the back was already on P15 after the first lap.
After 7 laps race leader was already 4.5s at drift and not much happened until Leclerc and Vettel pitted in lap 13. Both Ferrari drivers got fresh new hard tyres, but Vettel's pitstop wasn't flawless and took 6.4 sec. Leclerc dropped 1 place and Vettel 3.
In lap 23 Robert Kubica and Antionio Giovinazzi collided in turn 12. Both cars had severe damage, but were able to go on. Max Verstappen pitted in lap 26 and the Red Bull team again and did a very quick pitstop as usual. One lap later race leader Hamilton sis his pitstop to also switch to the hard tyres. The British driver could maintain to stay into the lead. Verstappen again lost the lead to Ferrari driver Leclerc because of his pitstop.
Verstappen was shouting through the radio that his engine was making strange noises and he had a lot of trouble with turbo lag. Despite his engine issue the Dutchman was able to pass the Monegasque in lap 32. One lap earlier Valtteri Bottas drove the fastest lap of the race.
In lap 38 both Ferrari drivers did a second pitstop. Leclerc switched to softs while Vettel took the medium tyres to attack the podium. In the same lap Bottas overtook Alexander Albon for P4.
Lance Stroll had the honour to be the only one who retired the race, while Hamilton drove to the finish untouched.
Classification 2019 Abu Dhabi GP
| P | No | Driver | Team | Time | Laps | Grid | Pts |
| --- | --- | --- | --- | --- | --- | --- | --- |
| 1 | 44 | Lewis Hamilton | Mercedes | 01:34:05.715 | 55 | 1 | 26 |
| 2 | 33 | Max Verstappen | Red Bull | +0 laps | 55 | 2 | 18 |
| 3 | 16 | Charles Leclerc | Ferrari | +0 laps | 55 | 3 | 15 |
| 4 | 77 | Valtteri Bottas | Mercedes | +0 laps | 55 | 20 | 12 |
| 5 | 5 | Sebastian Vettel | Ferrari | +0 laps | 55 | 4 | 10 |
| 6 | 23 | Alex Albon | Red Bull | +0 laps | 55 | 5 | 8 |
| 7 | 11 | Sergio Pérez | Racing Point | +1 lap | 54 | 10 | 6 |
| 8 | 4 | Lando Norris | McLaren | +1 lap | 54 | 6 | 4 |
| 9 | 26 | Daniil Kvyat | Toro Rosso | +1 lap | 54 | 13 | 2 |
| 10 | 55 | Carlos Sainz | McLaren | +1 lap | 54 | 8 | 1 |
| 11 | 3 | Daniel Ricciardo | Renault | +1 lap | 54 | 7 | 0 |
| 12 | 27 | Nico Hülkenberg | Renault | +1 lap | 54 | 9 | 0 |
| 13 | 7 | Kimi Räikkönen | Alfa Romeo | +1 lap | 54 | 17 | 0 |
| 14 | 20 | Kevin Magnussen | Haas | +1 lap | 54 | 14 | 0 |
| 15 | 8 | Romain Grosjean | Haas | +1 lap | 54 | 15 | 0 |
| 16 | 99 | Antonio Giovinazzi | Alfa Romeo | +1 lap | 54 | 16 | 0 |
| 17 | 63 | George Russell | Williams | +1 lap | 54 | 18 | 0 |
| 18 | 10 | Pierre Gasly | Toro Rosso | +2 laps | 53 | 11 | 0 |
| 19 | 88 | Robert Kubica | Williams | +2 laps | 53 | 19 | 0 |
| DNF | 18 | Lance Stroll | Racing Point | technical | 48 | 12 | 0 |
---
 Check out 2019 F1 Championship Standings
✅ Check out 2019 F1 Calendar
✅ Check out All Time F1 Drivers Rankings
✅ Check out All Time F1 Driver Records
✅ Check out All Time F1 Teams Rankings
---
✅ Check out more posts with related topics: