Race Results 2018 Russian F1 Grand Prix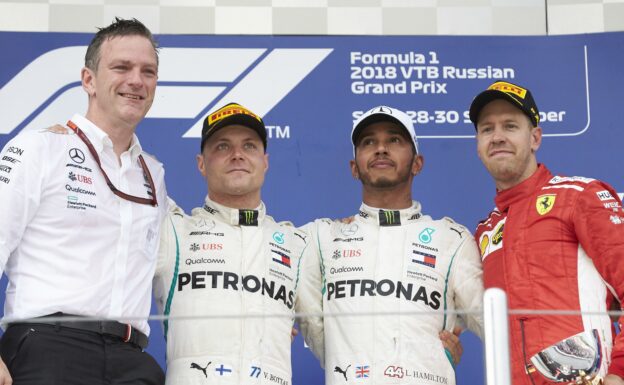 Event: Russian F1 Grand Prix
Track:  Sochi International Street Circuit
Weather:  Dry  23.4ºC
Tarmac: Dry 24ºC
Wind speed: 2.9 km/h
Humidity: 61.2%
Mercedes driver Lewis Hamilton won the 2018 Russian Formula 1 Grand Prix for the third time in his F1 career. It was his 70th formula 1 race win, his 8th win of the 2018 season and the 84th F1 victory for Mercedes.
Just before the race some drops of water came down on the Sochi track, but the tarmac didn't get wet. The start of the race was clean. The top 12 positions didn't change in the first lap.
Max Verstappen who started on P19 was already driving on P13 after the first lap. His RB14 was fitted with the yellow Soft tyres.
Only Pierre Gasly spun his Toro Rosso and went to the pit to retire. A few moments later his team mate Brandon Hartley also came in and retired the car after 4 laps with brake problems.
Verstappen was really flying and overtaking cars like they were driving in a different category. After 5 laps he already was driving on P7. His team mate Daniel Ricciardo started from P18 and was driving on P12 at that moment.
Romain Grosjean was the first to do a pit stop in lap 9. He switched to the Soft tyre. One lap later his team mate Kevin Magnussen did the same.
In lap 12 Valtteri Bottas did his pit stop in 2.9 sec to return to the track on Yellow soft tyres. This gave Lewis Hamilton the lead of the race. One lap later Sebastian Vettel switched over to the hardest compound with the Ferrari.
After lap 14 race leader Hamilton also pitted to get the Soft tyres on his Mercedes. His pitstop was 2.4 sec, but he returned to the track behind the Ferrari of Sebastian Vettel on P3. One lap later Hamilton did a brave pass on Vettel in the braking zone of turn 5 for P2.
Kimi Raikkonen didn't pit and was leading the race for 4 laps. He did his pit stop in lap 19 and returned to the track on P5. Verstappen was now leading the race!
Behind the top team cars it was a race between 4 teams. Sauber, Force India, Haas and Renault. After 22 laps Nico Hulkenberg was driving on P7 behind the Red Bull of Daniel Ricciardo.
In front Hamilton was chasing Bottas for P2. He tried to get into his DRS zone of 1 second, but could not pass him. Verstappen was still leading the race when Bottas had to led Hamilton by in lap 25. He did it just before turn 13. The top 4 was driving within 6 seconds.
In lap 26 Ocon gave his place up to Sergio Pérez to see if the Mexican can make a move on Kevin Magnussen to get ahead.
Leclerc was quietly putting together a very good race. Taking a place from Magnussen early on, he has been quick ever since and once Hulkenberg stopped, he was 'best of the rest' in P7.
In lap 32 Hamilton got on the radio telling the team he felt that his engine has some hesitations. In lap 33 Sebastian Vettel set the quickest lap time to 1:37.750 min. In lap 34 Renault driver Carlos Sainz switched to Ultrasoft tyres.
Race leader Verstappen who celebrates his 21st birthday pitted in lap 43. He returned on the Sochi circuit on P5 with fresh Ultrasoft tyres. Lewis Hamilton got the lead and drove to the finish
✅ Check out 2018 Russian F1 GP Pictures
✅ Check out 2018 F1 Championship Standings
✅ Check out 2018 F1 Calendar
✅ Check out 2018 Used F1 Power Unit Elements
✅ Check out All Time F1 Drivers Rankings
✅ Check out All Time F1 Teams Rankings
✅ Check out All Time Country Rankings
✅ Check out All F1 Drivers Records
F1 classification 2018 Russian GP
| P | No | Driver | Team | Time | Laps | Grid | Pts |
| --- | --- | --- | --- | --- | --- | --- | --- |
| 1 | 44 | Lewis Hamilton | Mercedes | 01:27:25.181 | 53 | 2 | 25 |
| 2 | 77 | Valtteri Bottas | Mercedes | 01:27:27.726 | 53 | 1 | 18 |
| 3 | 5 | Sebastian Vettel | Ferrari | 01:27:32.668 | 53 | 3 | 15 |
| 4 | 7 | Kimi Räikkönen | Ferrari | 01:27:41.724 | 53 | 4 | 12 |
| 5 | 33 | Max Verstappen | Red Bull | 01:27:56.197 | 53 | 19 | 10 |
| 6 | 3 | Daniel Ricciardo | Red Bull | 01:28:45.632 | 53 | 18 | 8 |
| 7 | 16 | Charles Leclerc | Sauber | 01:29:03.571 | 53 | 7 | 6 |
| 8 | 20 | Kevin Magnussen | Haas | 01:27:38.781 | 52 | 5 | 4 |
| 9 | 31 | Esteban Ocon | Racing Point | 01:27:42.789 | 52 | 6 | 2 |
| 10 | 11 | Sergio Pérez | Racing Point | 01:27:46.872 | 52 | 8 | 1 |
| 11 | 8 | Romain Grosjean | Haas | 01:28:02.523 | 52 | 9 | 0 |
| 12 | 27 | Nico Hülkenberg | Renault | 01:28:06.746 | 52 | 12 | 0 |
| 13 | 9 | Marcus Ericsson | Sauber | 01:28:24.468 | 52 | 10 | 0 |
| 14 | 14 | Fernando Alonso | McLaren | 01:28:43.855 | 52 | 16 | 0 |
| 15 | 18 | Lance Stroll | Williams | 01:28:44.790 | 52 | 14 | 0 |
| 16 | 2 | Stoffel Vandoorne | McLaren | 01:27:35.268 | 51 | 15 | 0 |
| 17 | 55 | Carlos Sainz | Renault | 01:27:31.151 | 51 | 11 | 0 |
| 18 | 35 | Sergey Sirotkin | Williams | 01:27:36.427 | 51 | 13 | 0 |
| DNF | 10 | Pierre Gasly | Toro Rosso | 00:07:41.116 | 4 | 17 | 0 |
| DNF | 28 | Brendon Hartley | Toro Rosso | 00:08:21.813 | 4 | 20 | 0 |
Fastest lap:  1:35.861 min by Valtteri Bottas in lap 50
---
✅ Check out more posts with related topics: