Race Results 2018 British F1 Grand Prix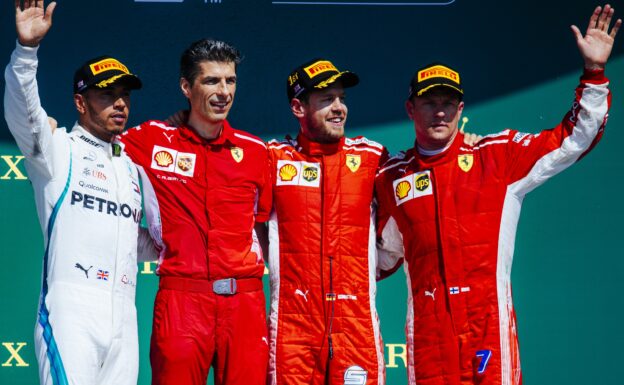 Event: British Grand Prix
Track: Silverstone Circuit
Weather:  Dry  26.7ºC
Tarmac: Dry 52.1ºC
Wind speed: 5.4 km/h
Humidity: 39.7%
Sebastian Vettel won the 2018 British Grand Prix today. It was Vettel's 51st F1 victory and the 234th win for the Scuderia Ferrari. It was also his 4th win of the 2018 F1 season.
All cars got off the start grid clean, but in turn 1 a lot cars went off the track. Sergio Pérez even spun off and almost collected the Williams of Sergey Sirotkin, who started from the pits together with his teammate Lance Stroll.
Sebastian Vettel who started from P2 had the best start in the Ferrari and passed Lewis Hamilton easily when the starting lights turned off.
Hamilton had a bad start got passed by Bottas in turn 1. In turn 3 the British driver got hit by the Ferrari of Kimi Raikkonen. The British driver spun and and returned on the track as last. The race for Hamilton changed from being in front to being last in 20 seconds.
Raikkonen got a 10 second penalty which he collected during his 1st pitstop in lap 13.
In lap 2 Brandon Hartley had to retire his Toro Rosso car. In lap 18 it was Charles Leclerc who retired his Sauber after his pitstop with a technical issue.
Race leader Sebastian Vettel pitted his Ferrari and switched from Soft to Medium tyres in lap 20 to return on the track just before Lewis Hamilton. The British 4 times driver champ was driving an epic race and had sliced through the field very quickly. He was already driving on P3!
Hamilton was driving on P2 when he he also switched from Soft to Medium tyres in lap 25 and returned the race on P6.
The only Sauber left on the track crashed in turn 1 with Marcus Ericsson behind the wheel. The crash caused a safety car period which lasted 5 laps.
After the race restarted we saw a great fight between Max Verstappen and Raikkonen. The Ferrari was much faster on the Brookland straight, but with the downforce of the Red Bull, Verstappen was able to re-pass Raikkonen on the outside of Luffield.
A few moments later it were Romain Grosjean in the Haas and Carlos Sainz in the Remault who collided in Copse corner and went off to retire.
After the second safety car period ended it was a very exciting sprint race of 10 laps. Vettel was pushing Bottas for P1 and got by in lap 48.
Max Verstappen who was driving on P5 spun off the track and even had to retired the Red Bull with a technical problem with his gearbox.
Bottas let his teammate Hamilton through for P2. In lap 49 Raikkonen passed Bottas on fresher tyres and finished the Ferrari on P3.
✅ Check out 2018 British F1 GP Pictures
✅ Check out 2018 F1 Championship Standings
✅ Check out 2018 F1 Calendar
✅ Check out All Time F1 Drivers Rankings
✅ Check out All Time F1 Teams Rankings
✅ Check out All F1 drvers records
F1 Classification 2018 British GP
| P | No | Driver | Team | Time | Laps | Grid | Pts |
| --- | --- | --- | --- | --- | --- | --- | --- |
| 1 | 5 | Sebastian Vettel | Ferrari | 01:27:29.784 | 52 | 2 | 25 |
| 2 | 44 | Lewis Hamilton | Mercedes | 01:27:32.048 | 52 | 1 | 18 |
| 3 | 7 | Kimi Räikkönen | Ferrari | 01:27:33.436 | 52 | 3 | 15 |
| 4 | 77 | Valtteri Bottas | Mercedes | 01:27:38.667 | 52 | 4 | 12 |
| 5 | 3 | Daniel Ricciardo | Red Bull | 01:27:39.284 | 52 | 6 | 10 |
| 6 | 27 | Nico Hülkenberg | Renault | 01:27:58.004 | 52 | 11 | 8 |
| 7 | 31 | Esteban Ocon | Force India | 01:27:59.714 | 52 | 9 | 6 |
| 8 | 14 | Fernando Alonso | McLaren | 01:28:00.899 | 52 | 13 | 4 |
| 9 | 20 | Kevin Magnussen | Haas | 01:28:02.972 | 52 | 10 | 2 |
| 10 | 11 | Sergio Pérez | Force India | 01:28:04.492 | 52 | 12 | 1 |
| 11 | 2 | Stoffel Vandoorne | McLaren | 01:28:07.890 | 52 | 17 | 0 |
| 12 | 18 | Lance Stroll | Williams | 01:28:08.913 | 52 | 19 | 0 |
| 13 | 10 | Pierre Gasly | Toro Rosso | 01:28:08.913 | 52 | 14 | 0 |
| 14 | 35 | Sergey Sirotkin | Williams | 01:28:17.897 | 52 | 18 | 0 |
| 15 | 33 | Max Verstappen | Red Bull | Brakes | 46 | 5 | 0 |
| DNF | 55 | Carlos Sainz | Renault | Collision with Grosjean | 37 | 16 | 0 |
| DNF | 8 | Romain Grosjean | Haas | Collision with Sainz | 37 | 8 | 0 |
| DNF | 9 | Marcus Ericsson | Sauber | Crashed | 31 | 15 | 0 |
| DNF | 16 | Charles Leclerc | Sauber | Pitstop | 18 | 9 | 0 |
| DNF | 28 | Brendon Hartley | Toro Rosso | Power Unit connector | 1 | 20 | 0 |
Penalties:
Car 10 - Pierre Gasly (Toro Rosso) 5 second time penalty - Causing a collision 
Fastest lap: 1:30.696 min by Sebastian Vettel - Ferrari SF71H @233.831 km/h on lap 47
Highest speed: 346.8 km/h by Kimi Raikkonen - Ferrari SF71H
---
✅ Check out more posts with related topics: