Race results 2018 Bahrain F1 Grand Prix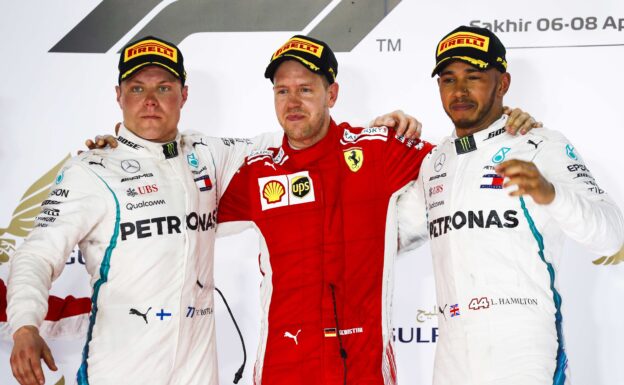 Event: Bahrain Grand Prix
Track: Bahrain International Circuit
Weather: Dry 29,6ºC
Tarmac: Dry 43ºC
Humidity: 45,1%
Sebastian Vettel won the 2018 Bahrain Grand Prix for Ferrari. He scored his 49th F1 race win and his 4th win in Bahrain in his 200th GP start.
Valtteri Bottas finished 2nd and other Mercedes driver Lewis Hamilton who started form P9 crossed the finish line as 3rd.
Valtteri Bottas was able to pass the Ferrari of Raikkonen at the start of the race with no incidents in the first corner after the start. In the second corner Renault driver Nico Hulkenberg hit the Haas car of Kevin Magnussen and had Kevin had to leave the track. In the 3rd corner Sergio Pérez spun his Force India VJM11 because he got hit by Brendon Hartley's Toro Rosso STR13.
In the second lap of the race Red Bull driver Max Verstappen passed Mercedes driver Lewis Hamilton and because they touched, Verstappen got a puncture and had to limp back to the pit. At the same time Daniel Ricciardo had to retire his RB14 and caused a VSR (Virtual Safety Car) period. During this VSR the car of Ricciardo was pushed behind the barriers.
In the 5th lap Max Verstappen also had to retire his car. While Lewis Hamilton who started with soft tyres on P9 passed 4 cars and drove already 5th. In the 8th lap Hamilton took 4th place of Pierre Gasly in the Toro Rosso.
In lap 9 Brendon Hartley received a 10 sec. pit penalty for his collision with Perez in the first corner of the 1st lap.
In lap 18 race leader Sebastian Vettel pitted his Ferrari SF71H and got soft tyres. Valterri Bottas got the lead of the race. Next lap Kimi Raikkonen also switched to the soft Pirelli tyres. In lap 20 Bottas got medium tyres from his team and returned on the track as 3rd, while Hamilton took the lead.
In lap 25 Sebastian Vettel was on the tail of Hamilton's Mercedes and passed him in lap 26 on the start/finish straight. Hamilton pitted that lap to go to medium tyres and drive to the finish\.
In lap 36 Kimi Raikkonen stopped his Ferrari for his second pit stop. The mechanics struggled with the rear left tyre.  Raikkonen got the green light to drive away while his mechanic was still waiting in front of his right rear wheel. The mechanic got hit by the soft tyre that was still on the Ferrari when Raikkonen drove away which fractured his lower leg bone. Raikkonen had to stop in the pit and retired his car.
Vettel managed to drive much longer on the soft tyres than everybody thought and was able to keep Bottas behind in the last laps who was only 0,7 sec. behind.
✅ Check out 2018 Bahrain F1 GP pictures
✅ Check out 2018 F1 Results & Standings
✅ Check out All Time F1 Drivers Rankings
✅ Check out All Time F1 Teams Rankings
✅ Check out All F1 Drivers Records
F1 classification 2018 Bahrain GP
| P | No | Driver | Team | Time | Laps | Grid | Pts |
| --- | --- | --- | --- | --- | --- | --- | --- |
| 1 | 5 | Sebastian Vettel | Ferrari | 01:32:01.940 | 57 | 1 | 25 |
| 2 | 77 | Valtteri Bottas | Mercedes | 01:32:02.639 | 57 | 3 | 18 |
| 3 | 44 | Lewis Hamilton | Mercedes | 01:32:08.452 | 57 | 9 | 15 |
| 4 | 10 | Pierre Gasly | Toro Rosso | 01:33:04.174 | 57 | 5 | 12 |
| 5 | 20 | Kevin Magnussen | Haas | 01:33:16.986 | 56 | 6 | 10 |
| 6 | 27 | Nico Hülkenberg | Renault | 01:33:40.964 | 56 | 7 | 8 |
| 7 | 14 | Fernando Alonso | McLaren | 01:32:03.550 | 56 | 13 | 6 |
| 8 | 2 | Stoffel Vandoorne | McLaren | 01:32:13.129 | 56 | 14 | 4 |
| 9 | 9 | Marcus Ericsson | Sauber | 01:32:17.556 | 56 | 17 | 2 |
| 10 | 31 | Esteban Ocon | Force India | 01:32:23.685 | 56 | 8 | 1 |
| 11 | 55 | Carlos Sainz | Renault | 01:32:30.305 | 56 | 10 | 0 |
| 12 | 16 | Charles Leclerc | Sauber | 01:32:58.939 | 56 | 19 | 0 |
| 13 | 8 | Romain Grosjean | Haas | 01:32:59.675 | 56 | 16 | 0 |
| 14 | 18 | Lance Stroll | Williams | 01:33:01.470 | 56 | 20 | 0 |
| 15 | 35 | Sergey Sirotkin | Williams | 01:33:01.497 | 56 | 19 | 0 |
| 16 | 11 | Sergio Pérez | Force India | 01:32:35.575 | 56 | 12 | 0 |
| 17 | 28 | Brendon Hartley | Toro Rosso | 01:32:39.046 | 56 | 11 | 0 |
| DNF | 7 | Kimi Räikkönen | Ferrari | Pit stop incident | 35 | 2 | 0 |
| DNF | 33 | Max Verstappen | Red Bull | Differential | 3 | 15 | 0 |
| DNF | 3 | Daniel Ricciardo | Red Bull | Battery | 1 | 4 | 0 |
Fastest lap: 1:33.740 on lap 22 by Valtteri Bottas, Mercedes W09 @207.842 km/h
Highest speed: 340.0 km/h / 211,3 mph Romain Grosjean, Haas VF-18
Notes:
Sergio Pérez (Force India) 30 second time penalty - Overtaking on the formation lap
Brendon Hartley (Toro Rosso) 30 second time penalty - Failing to re-establish original start order by SC1
---
✅ Check out more posts with related topics: