Race results 2018 Austrian F1 grand prix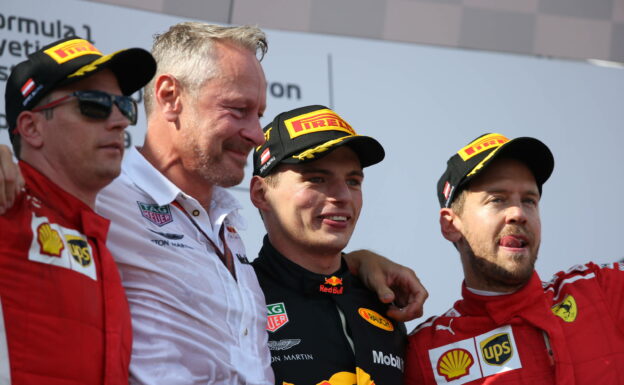 Event: Austrian Grand Prix
Track: Red Bull Ring
Weather:  Dry 22.9ºC
Tarmac: Dry 48.2ºC
Wind speed: 6.1 km/h
Humidity: 38.5%
Max Verstappen won the 2018 Austrian Grand Prix today. It was Verstappen's 4th F1 victory and the 58th win for the Red Bull Racing team.
All cars started off clean. Kimi Raikkonen who started from 3rd in the Ferrari had the best start and was able to get between both Mercedes cars.
In the first lap we saw a lot of overtaking by several drivers. Raikkonen and Verstappen overtook Valtteri Bottas between turn 1 and 2 then Bottas passed Raikkonen and Verstappen back in the braking zone of turn 3 to get P2. Then in turn 4 Verstappen passed Raikkonen with a touch for P3.
In lap 11 Nico Hulkenberg blew up his engine and retired his Renault RS18 from the race. A few laps later it was Valtteri Bottas who retired his Mercedes W09 due to an hydraulic problem and gave Verstappen P2.
The retirement of Bottas causes a Virtual Safety Car period in which both Red Bull pit to get rid of their Supersoft tyres and get yellow Soft tyres. Mercedes makes an error by not pitting Lewis Hamilton during the VSC.
In lap 20 Red Bull driver Daniel Ricciardo made a passing move on Raikkonen and got P3. Ricciardo got some heavy blistering on his rear right tyre and gets passed by Raikkonen in lap 38 again for P2.
Hamilton does his pitstop in lap 26 and falls back from 1st to 4th and also gets passed in lap 39 by drivers championship rival Sebastian Vettel in the Ferrari and retires his car with a fuel pressure problem in race lap 64.
Best of the rest is the Haas team from the US. Both their driver Romain Grosjean and Kevin Magnussen finish on P4 and P5 and earn 9 important points.
Lewis Hamilton ended his record of most amount point scoring finishes and set to record to 33 consecutive races.
✅ Check out 2018 Austrian F1 GP Pictures
✅ Check out 2018 F1 Championship Standings
✅ Check out 2018 F1 Calendar
✅ Check out All Time F1 Drivers Rankings
✅ Check out All Time F1 Teams Rankings
✅ Check out All F1 drvers records
F1 Classification 2018 Austrian GP
| P | No | Driver | Team | Time | Laps | Grid | Pts |
| --- | --- | --- | --- | --- | --- | --- | --- |
| 1 | 33 | Max Verstappen | Red Bull | 01:21:56.024 | 71 | 4 | 25 |
| 2 | 7 | Kimi Räikkönen | Ferrari | +0 laps | 71 | 3 | 18 |
| 3 | 5 | Sebastian Vettel | Ferrari | +0 laps | 71 | 6 | 15 |
| 4 | 8 | Romain Grosjean | Haas | +1 lap | 70 | 5 | 12 |
| 5 | 20 | Kevin Magnussen | Haas | +1 lap | 70 | 8 | 10 |
| 6 | 31 | Esteban Ocon | Force India | +1 lap | 70 | 11 | 8 |
| 7 | 11 | Sergio Pérez | Force India | +1 lap | 70 | 15 | 6 |
| 8 | 14 | Fernando Alonso | McLaren | +1 lap | 70 | 20 | 4 |
| 9 | 16 | Charles Leclerc | Sauber | +1 lap | 70 | 17 | 2 |
| 10 | 9 | Marcus Ericsson | Sauber | +1 lap | 70 | 18 | 1 |
| 11 | 10 | Pierre Gasly | Toro Rosso | +1 lap | 70 | 12 | 0 |
| 12 | 55 | Carlos Sainz | Renault | +1 lap | 70 | 9 | 0 |
| 13 | 35 | Sergey Sirotkin | Williams | +2 laps | 69 | 16 | 0 |
| 14 | 18 | Lance Stroll | Williams | +2 laps | 69 | 13 | 0 |
| 15 | 2 | Stoffel Vandoorne | McLaren | Gearbox | 65 | 14 | 0 |
| DNF | 44 | Lewis Hamilton | Mercedes | Fuel pressure | 62 | 2 | 0 |
| DNF | 28 | Brendon Hartley | Toro Rosso | Rear suspension | 54 | 19 | 0 |
| DNF | 3 | Daniel Ricciardo | Red Bull | Gearbox | 53 | 7 | 0 |
| DNF | 77 | Valtteri Bottas | Mercedes | Hydraulic | 13 | 1 | 0 |
| DNF | 27 | Nico Hülkenberg | Renault | Power unit | 11 | 10 | 0 |
---
✅ Check out more posts with related topics: