Race Results 2017 USA F1 Grand Prix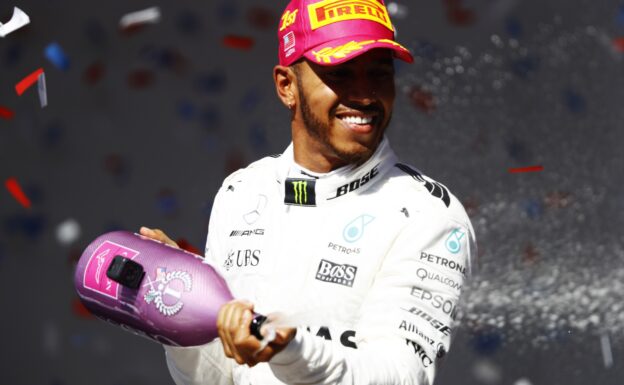 Event: USA Grand Prix
Track: Circuit of The Americas
Weather: 25°C dry & clear sky
Tarmac: 35°C dry
Lewis Hamilton won the USA Grand Prix for the 6th time today. It was the 62nd race win for the British driver and the 75th race win for the Mercedes team.
Hamilton got passed by Sebastian Vettel's Ferrari at the start. After 5 laps Hamilton was able to pass Vettel with DRS at the back straight on COTA. He then drove away from the Ferrari driver and was able to sustain his gap and win the race with a 10s lead
Vettel dropped back behind his teammate Kimi Raikkonen after the pit stops and drove 3rd in the last stages of the grand prix.
Vettel finished 2nd because Raikkonen let him pass in the last laps of the race. The Finish driver also got passed by an unbelievable pass of 20 year old Max Verstappen from the inside in the 250 km/h righthander that makes corners 16, 17 and 18. Right after the race Verstappen was given a 5 sec penalty because he left the tarmac with 4 wheels while passing.
After the finish Raikkonen got back 3rd place because of the 5 second penalty Verstappen got classified 4th. Verstappen had to leave the podium for the 2nd time in his career. It's still an unbelievable achievement by the Dutchman to start from 16th place and finish to get classified as 4th.
F1 classification 2017 USA GP
| P | No | Driver | Team | Time | Laps | Grid | Pts |
| --- | --- | --- | --- | --- | --- | --- | --- |
| 1 | 44 | Lewis Hamilton | Mercedes | 01:33:50.991 | 56 | 1 | 25 |
| 2 | 5 | Sebastian Vettel | Ferrari | 01:34:01.134 | 56 | 2 | 18 |
| 3 | 7 | Kimi Räikkönen | Ferrari | 01:34:06.770 | 56 | 5 | 15 |
| 4 | 33 | Max Verstappen | Red Bull | 01:34:07.759 | 56 | 16 | 12 |
| 5 | 77 | Valtteri Bottas | Mercedes | 01:34:25.958 | 56 | 3 | 10 |
| 6 | 31 | Esteban Ocon | Force India | 01:35:21.971 | 56 | 6 | 8 |
| 7 | 55 | Carlos Sainz | Renault | 01:35:23.935 | 56 | 7 | 6 |
| 8 | 11 | Sergio Pérez | Force India | 01:33:53.788 | 55 | 9 | 4 |
| 9 | 19 | Felipe Massa | Williams | 01:33:54.312 | 55 | 10 | 2 |
| 10 | 26 | Daniil Kvyat | Toro Rosso | 01:34:00.463 | 55 | 11 | 1 |
| 11 | 18 | Lance Stroll | Williams | 01:34:22.169 | 55 | 15 | 0 |
| 12 | 2 | Stoffel Vandoorne | McLaren | 01:34:23.812 | 55 | 20 | 0 |
| 13 | 28 | Brendon Hartley | Toro Rosso | 01:34:27.591 | 55 | 19 | 0 |
| 14 | 8 | Romain Grosjean | Haas | 01:34:34.027 | 55 | 12 | 0 |
| 15 | 9 | Marcus Ericsson | Sauber | 01:34:40.803 | 55 | 13 | 0 |
| 16 | 20 | Kevin Magnussen | Haas | 01:34:56.701 | 55 | 17 | 0 |
| DNF | 14 | Fernando Alonso | McLaren | Power unit | 24 | 8 | 0 |
| DNF | 3 | Daniel Ricciardo | Red Bull | Engine failure | 14 | 4 | 0 |
| DNF | 94 | Pascal Wehrlein | Sauber | Collision | 5 | 14 | 0 |
| DNF | 27 | Nico Hülkenberg | Renault | Oil leak | 3 | 18 | 0 |
Penalties:
Marcus Ericsson (9): 5 second time penalty - Causing a collision
Max Verstappen (33): 5 second time penalty - Leaving the track and gaining an advantage
fastest lap: 1:37.766 min in lap 51 by Sebastian Vettel, Ferrari SF70H @203.003 km/h
highest speed: 341,2 km/h by Felipe Massa, Williams FW40
✅ Check out 2017 F1 Championship Standings
✅ Check out 2017 F1 Teams & Drivers
✅ Check out All Time F1 Drivers Rankings
✅ Check out All Time F1 Driver Records
✅ Check out All Time F1 Teams Rankings
---
✅ Check out more posts with related topics: