Race Results 2017 Malaysian F1 Grand Prix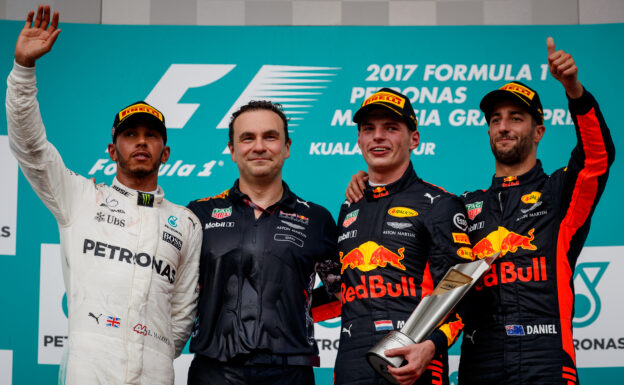 Event: Malaysian Grand Prix
Track: Sepang International Circuit.
Weather: 31°C dry & cloudy
Tarmac: 37°C dry
Max Verstappen won his 2nd F1 race today in Malaysia. Before the start of the race Ferrari driver Kimi Raikkonen had to come in to the garage in his outlap. The unfortunate Finish driver didn't start the race because of an engine problem.
The race started clean and after 3 laps Max Verstappen was able to pass 3 times world champion in the first corner of the 4th lap easely and pull away.
The ex-teenager who celebrated his 20th birthday yesterday was able to create a gap of more than 9 seconds just before his first pitstop.
Sebastian Vettel who started last in the Ferrari was able to attack the race with all his talent. Half way the race he already drove on 4th place and was on his way to the podium but had to settle for 4th.
Verstappen had a very stable race in the Red Bull RB13 and drove a way from Hamilton to a very solid gap of 10 seconds at the end of the race.
F1 classification 2017 Malaysian GP
| P | No | Driver | Team | Time | Laps | Grid | Pts |
| --- | --- | --- | --- | --- | --- | --- | --- |
| 1 | 33 | Max Verstappen | Red Bull | 01:30:01.290 | 56 | 2 | 25 |
| 2 | 44 | Lewis Hamilton | Mercedes | 01:30:14.060 | 56 | 1 | 18 |
| 3 | 3 | Daniel Ricciardo | Red Bull | 01:30:23.809 | 56 | 4 | 15 |
| 4 | 5 | Sebastian Vettel | Ferrari | 01:30:38.652 | 56 | 20 | 12 |
| 5 | 77 | Valtteri Bottas | Mercedes | 01:30:57.311 | 56 | 5 | 10 |
| 6 | 11 | Sergio Pérez | Force India | 01:31:19.920 | 56 | 9 | 8 |
| 7 | 2 | Stoffel Vandoorne | McLaren | 01:30:15.195 | 55 | 7 | 6 |
| 8 | 18 | Lance Stroll | Williams | 01:30:24.853 | 55 | 13 | 4 |
| 9 | 19 | Felipe Massa | Williams | 01:30:31.060 | 55 | 10 | 2 |
| 10 | 31 | Esteban Ocon | Force India | 01:30:47.568 | 55 | 6 | 1 |
| 11 | 14 | Fernando Alonso | McLaren | 01:30:50.307 | 55 | 10 | 0 |
| 12 | 20 | Kevin Magnussen | Haas | 01:30:53.169 | 55 | 17 | 0 |
| 13 | 8 | Romain Grosjean | Haas | 01:30:53.992 | 55 | 16 | 0 |
| 14 | 10 | Pierre Gasly | Toro Rosso | 01:30:55.473 | 55 | 15 | 0 |
| 15 | 30 | Jolyon Palmer | Renault | 01:31:01.413 | 55 | 12 | 0 |
| 16 | 27 | Nico Hülkenberg | Renault | 01:31:01.532 | 55 | 8 | 0 |
| 17 | 94 | Pascal Wehrlein | Sauber | 01:31:10.137 | 55 | 18 | 0 |
| 18 | 9 | Marcus Ericsson | Sauber | 01:30:05.311 | 54 | 19 | 0 |
| DNF | 55 | Carlos Sainz | Toro Rosso | Power unit | 29 | 14 | 0 |
| DNS | 7 | Kimi Räikkönen | Ferrari | Turbo problem | 0 | 2 | 0 |
Fastest lap: 1:34,080 in lap 41 by Sebastian Vettel in the Ferrari SF70H @212,104 km/h
Highest speed: 332,9 km/h by Sebastian Vettel, Ferrari SF70H
✅ Check out 2017 F1 Championship Standings
✅ Check out 2017 F1 Teams & Drivers
✅ Check out All Time F1 Drivers Rankings
✅ Check out All Time F1 Driver Records
✅ Check out All Time F1 Teams Rankings
---
✅ Check out more posts with related topics: