Race Results 2017 Italian F1 grand prix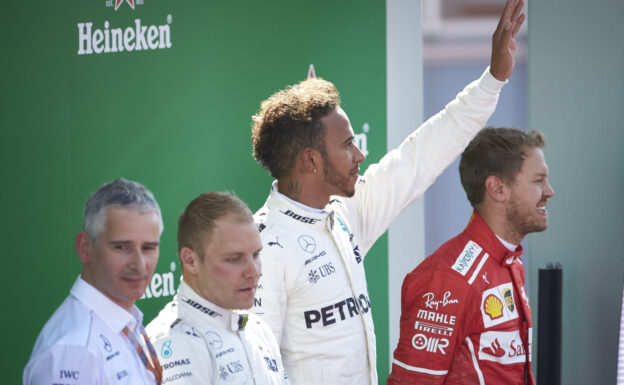 Event: Italian Grand Prix
Track:  Autodromo Nazionale Monza
Weather: 25°C Dry & Sunny
Tarmac: 37°C Dry
Lewis Hamilton won the 2017 Italian grand prix in Monza today. It was his 59th Formula 1 victory, his 6th win of the season and the 72nd overall for the Mercedes team.
His teammate Valtteri Bottas finished 2nd to make this Mercedes 39th 1-2 finish.
Ferrari driver Sebastian Vettel finished Ferrari's home grand prix as 3rd and could celebrate this with the huge Ferrari fan crowd on the fantastic Monza podium.
The race started with a few small collisions in the first chicane. In the first lap Felipe Massa hit Sergio Pérez with no severe damage. 2 laps later Massa hit Max Verstappen's Red Bull. That collision caused a right front puncture and front wing damage for Verstappen and ruined his race.
The Dutch teenager had a very good start. He started from 13th place and was already driving on 7th place when Massa hit him in the 3rd lap at the first chicane.
The other teenager Lance Stroll started his Williams on 2nd place, but was passed by other rookie Esteban Ocon at the first chicane right after the start. Ocon also had a very good start with his Force India and even got close to the Mercedes of Lewis Hamilton in the first braking zone, after the first chicane Hamilton drove away easily.
At the end of the race Daniel Ricciardo showed his skill and took 4th place from Kimi Raikkonen with an outstanding pass in the first chicane. Raikkonen had some technical issues with his Ferrari could not attack the corners.
Ricciardo showed very good pace and even could glose the 10 sec. gap with Vettel. who drove 10 seconds before him at that time. Vettel managed the gap between the Australian driver and wasn't really threatened.
Jolyon Palmer was the first driver to retire in the 31st lap. His Renault had an gearbox problem. Stoffel Vandoorne was the second driver to retire. He had engine trouble again with his Honda and retired in lap 35.
In the last laps Ericsson had to retire his Sauber and also Fernando Alonso had to retire his McLaren again. It was Alonso's 4th retirement in the last 5 races.
Vettel lost his drivers championship title lead to Hamilton. He now leads the German driver by 3 points.
F1 Classification 2017 Italian GP
| P | No | Driver | Team | Time | Laps | Grid | Pts |
| --- | --- | --- | --- | --- | --- | --- | --- |
| 1 | 44 | Lewis Hamilton | Mercedes | 01:15:32.312 | 53 | 1 | 25 |
| 2 | 77 | Valtteri Bottas | Mercedes | 01:15:36.783 | 53 | 4 | 18 |
| 3 | 5 | Sebastian Vettel | Ferrari | 01:16:08.629 | 53 | 6 | 15 |
| 4 | 3 | Daniel Ricciardo | Red Bull | 01:16:12.647 | 53 | 16 | 12 |
| 5 | 7 | Kimi Räikkönen | Ferrari | 01:16:32.394 | 53 | 5 | 10 |
| 6 | 31 | Esteban Ocon | Force India | 01:16:43.840 | 53 | 3 | 8 |
| 7 | 18 | Lance Stroll | Williams | 01:16:46.468 | 53 | 2 | 6 |
| 8 | 19 | Felipe Massa | Williams | 01:16:47.146 | 53 | 7 | 4 |
| 9 | 11 | Sergio Pérez | Force India | 01:16:47.588 | 53 | 9 | 2 |
| 10 | 33 | Max Verstappen | Red Bull | 01:15:50.678 | 52 | 13 | 1 |
| 11 | 20 | Kevin Magnussen | Haas | 01:16:01.108 | 52 | 9 | 0 |
| 12 | 26 | Daniil Kvyat | Toro Rosso | 01:16:01.993 | 52 | 8 | 0 |
| 13 | 27 | Nico Hülkenberg | Renault | 01:16:04.711 | 52 | 14 | 0 |
| 14 | 55 | Carlos Sainz | Toro Rosso | 01:16:05.728 | 52 | 15 | 0 |
| 15 | 8 | Romain Grosjean | Haas | 01:16:35.985 | 52 | 20 | 0 |
| 16 | 94 | Pascal Wehrlein | Sauber | 01:15:41.806 | 51 | 12 | 0 |
| 17 | 14 | Fernando Alonso | McLaren | Gearbox | 50 | 19 | 0 |
| DNF | 9 | Marcus Ericsson | Sauber | Damaged car | 49 | 11 | 0 |
| DNF | 2 | Stoffel Vandoorne | McLaren | Power unit | 33 | 18 | 0 |
| DNF | 30 | Jolyon Palmer | Renault | Gearbox | 29 | 17 | 0 |
Fastest lap: 1:23.361 by Daniel Ricciardo, Red Bull RB13 on lap 49 @250.174 km/h
Fastest speed: 357.4 km/h by Sergio Pérez, Force India VJM10
✅ Check out 2017 F1 Championship Standings
✅ Check out 2017 F1 Teams & Drivers
✅ Check out All Time F1 Drivers Rankings
✅ Check out All Time F1 Driver Records
✅ Check out All Time F1 Teams Rankings
---
✅ Check out more posts with related topics: