Race Results 2017 Belgian F1 Grand Prix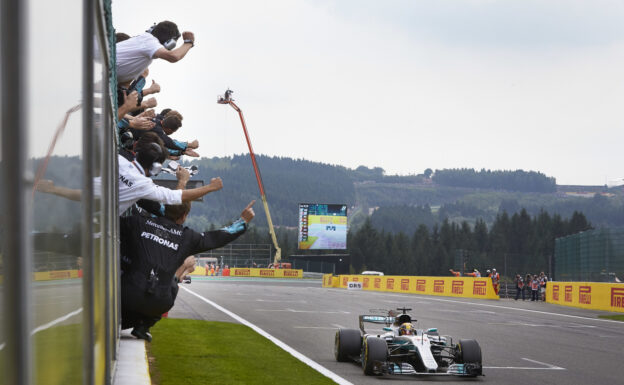 Event: Belgian Grand Prix
Track:  Spa Francorchamps Circuit
Weather: 23°C Dry & Sunny
Tarmac: 31°C Dry
Lewis Hamilton won his 58th race win at Spa today. He had a very good weekend during his 200th F1 GP in Belgian.
Yesterday he already equalled the record pole position amount of 68 hold by 7 times world champions Michael Schumacher.
Lewis had to work hard for his victory. Especially after a safety car period in the late stages of the race, where he had to battle with Ferrari driver Sebastian Vettel.
The German driver switched to ultra soft tires during the safety car period while Lewis had to go to soft tyres. Which was a big advantage for the Ferrari driver. He almost passed Hamilton after the safety car restart. But didn't had enough speed on Camel straight to pass the Mercedes W08.
Daniel Ricciardo was again fortunate to finish on the podium for Red Bull. His teammate Max Verstappen again had technical problems. Just like last year he retired early in the race and Ricciardo again won a podium.
Strangely Daniel got on the podium for the 5th time this season, while his teammate retired while driving in front of him...
F1 Classification 2017 Belgian GP
| P | No | Driver | Team | Time | Laps | Grid | Pts |
| --- | --- | --- | --- | --- | --- | --- | --- |
| 1 | 44 | Lewis Hamilton | Mercedes | 01:24:42.820 | 44 | 1 | 25 |
| 2 | 5 | Sebastian Vettel | Ferrari | 01:24:45.178 | 44 | 2 | 18 |
| 3 | 3 | Daniel Ricciardo | Red Bull | 01:24:53.611 | 44 | 6 | 15 |
| 4 | 7 | Kimi Räikkönen | Ferrari | 01:24:57.291 | 44 | 4 | 12 |
| 5 | 77 | Valtteri Bottas | Mercedes | 01:24:59.276 | 44 | 3 | 10 |
| 6 | 27 | Nico Hülkenberg | Renault | 01:25:10.907 | 44 | 7 | 8 |
| 7 | 8 | Romain Grosjean | Haas | 01:25:10.907 | 44 | 11 | 6 |
| 8 | 19 | Felipe Massa | Williams | 01:25:19.469 | 44 | 16 | 4 |
| 9 | 31 | Esteban Ocon | Force India | 01:25:20.974 | 44 | 9 | 2 |
| 10 | 55 | Carlos Sainz | Toro Rosso | 01:25:22.267 | 44 | 13 | 1 |
| 11 | 18 | Lance Stroll | Williams | 01:25:31.819 | 44 | 15 | 0 |
| 12 | 26 | Daniil Kvyat | Toro Rosso | 01:25:32.760 | 44 | 19 | 0 |
| 13 | 30 | Jolyon Palmer | Renault | 01:25:36.059 | 44 | 14 | 0 |
| 14 | 2 | Stoffel Vandoorne | McLaren | 01:25:50.082 | 44 | 20 | 0 |
| 15 | 20 | Kevin Magnussen | Haas | 01:25:50.082 | 44 | 12 | 0 |
| 16 | 9 | Marcus Ericsson | Sauber | 01:25:52.531 | 44 | 17 | 0 |
| 17 | 11 | Sergio Pérez | Force India | Puncture | 42 | 8 | 0 |
| DNF | 14 | Fernando Alonso | McLaren | Power unit | 25 | 10 | 0 |
| DNF | 33 | Max Verstappen | Red Bull | Power unit | 7 | 5 | 0 |
| DNF | 94 | Pascal Wehrlein | Sauber | Collision | 2 | 18 | 0 |
Fastest lap: 1:46.577 by Sebastian Vettel, Ferrari SF70H on lap 41 @236.583 km/h
Fastest speed: 355 km/h by Sergio Pérez, Force India VJM10
Penalties:
Car 2 - 60 place grid penalty - Additional power unit elements have been used
Cars 94, 2 & 9 - 5 place grid penalty - Replacement Gearbox
Car 19 - 5 place grid penalty - Failing to slow for yellow flags
Car 26 - 20 place grid penalty - Additional power unit elementshave been used
Car 30 - 5 place grid penalty - Replacement Gearbox
✅ Check out 2017 F1 Championship Standings
✅ Check out 2017 F1 Teams & Drivers
✅ Check out All Time F1 Drivers Rankings
✅ Check out All Time F1 Driver Records
✅ Check out All Time F1 Teams Rankings
---
✅ Check out more posts with related topics: