2016 Italian Grand Prix: F1 Race Results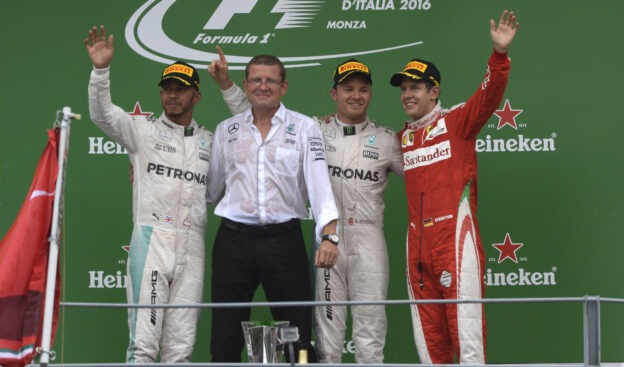 Event: Italian Grand Prix
Track: Monza Circuit
Weather: 29°C dry & clear
Tarmac: 37°C dry
Humidity: 48%
Nico Rosberg won his 21st Formula 1 grand prix in Italy today.
He started as second and overtook pole sitter Lewis Hamilton and drove to the finish without any threat from other drivers.
Hamilton had a bad start and fell back at to 6th place and was the only one who dare to do only 1 pitstop for the whole race. This payed out form very well and he was able to pass both Ferrari and finish 2nd because of this strategy.
Sebastian Vettel Max Verstappen who started 2nd had a very bad race and had to settle for 11th place.
His team mate Daniel Ricciardo took 2nd place for Red Bull
Lewis Hamilton who started as 21st today due to several penalties was able to pass a lot of cars and even finished on the podium as 3rd.
Beautiful pictures can be found here: 2016 Italian F1 GP Pictures.
F1 classification 2016 Italian GP
| P | No | Driver | Team | Time | Laps | Grid | Pts |
| --- | --- | --- | --- | --- | --- | --- | --- |
| 1 | 6 | Nico Rosberg | Mercedes | 01:17:28.089 | 53 | 2 | 25 |
| 2 | 44 | Lewis Hamilton | Mercedes | 01:17:43.159 | 53 | 1 | 18 |
| 3 | 5 | Sebastian Vettel | Ferrari | 01:17:49.079 | 53 | 3 | 15 |
| 4 | 7 | Kimi Räikkönen | Ferrari | 01:17:55.650 | 53 | 4 | 12 |
| 5 | 3 | Daniel Ricciardo | Red Bull | 01:18:19.104 | 53 | 6 | 10 |
| 6 | 77 | Valtteri Bottas | Williams | 01:18:13.384 | 53 | 6 | 8 |
| 7 | 33 | Max Verstappen | Red Bull | 01:18:22.325 | 53 | 7 | 6 |
| 8 | 11 | Sergio Pérez | Force India | 01:18:33.043 | 53 | 8 | 4 |
| 9 | 19 | Felipe Massa | Williams | 01:18:33.706 | 53 | 11 | 2 |
| 10 | 27 | Nico Hülkenberg | Force India | 01:18:46.745 | 53 | 9 | 1 |
| 11 | 8 | Romain Grosjean | Haas | 01:17:31.675 | 52 | 17 | 0 |
| 12 | 22 | Jenson Button | McLaren | 01:17:32.226 | 52 | 14 | 0 |
| 13 | 21 | Esteban Gutierrez | Haas | 01:17:52.418 | 52 | 10 | 0 |
| 14 | 14 | Fernando Alonso | McLaren | 01:17:58.750 | 52 | 12 | 0 |
| 15 | 55 | Carlos Sainz | Toro Rosso | 01:18:01.423 | 52 | 15 | 0 |
| 16 | 9 | Marcus Ericsson | Sauber | 01:18:21.969 | 52 | 19 | 0 |
| 17 | 20 | Kevin Magnussen | Renault | 01:18:54.688 | 52 | 21 | 0 |
| 18 | 31 | Esteban Ocon | Manor | 01:17:44.407 | 51 | 22 | 0 |
| DNF | 26 | Daniil Kvyat | Toro Rosso | +17 laps | 36 | 16 | 0 |
| DNF | 94 | Pascal Wehrlein | Manor | +27 laps | 26 | 13 | 0 |
| DNF | 30 | Jolyon Palmer | Renault | +46 laps | 7 | 20 | 0 |
| DNF | 12 | Felipe Nasr | Sauber | +47 laps | 6 | 18 | 0 |
Fastest lap: Fernando Alonso, McLaren MP4-31 - 1:25.340 min, average speed 244.373 km/h
✅ Check out 2016 F1 Championship Standings
✅ Check out 2016 F1 Teams & Drivers
✅ Check out All Time F1 Drivers Rankings
✅ Check out All Time F1 Driver Records
✅ Check out All Time F1 Teams Rankings
---
✅ Check out more posts with related topics: