Race results 2016 Chinese F1 Grand Prix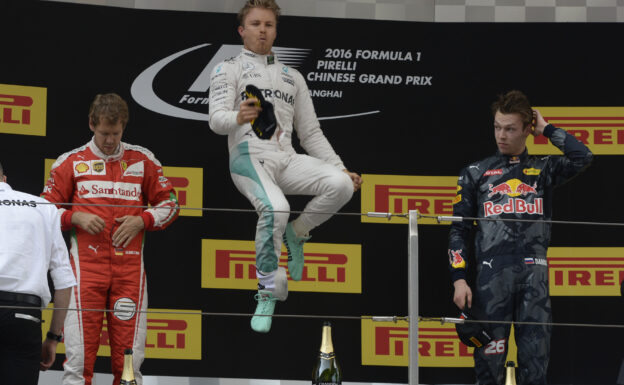 Event: Chinese Grand Prix
Track: Shanghai International Circuit
Weather: Dry & Sunny
Tarmac: Dry
Nico Rosberg won his 3 race in row of the 2016 F1 season and his 6th race in row since last season for Mercedes today.
Ferrari driver Sebastian Vettel who collided with his Ferrari teammate Raikkonen in the first corner finished this exciting race as 2nd.
Russian Red Bull driver Daniil Kvyat scored his second podium of his career by finishing 3rd. He passed Sebastian Vettel in the first corner of the race.
Vettel was not amused by his move and discussed it with him on his way to the podium
Lewis Hamilton had a hard time being successful today. After his Mercedes W07 had a gearbox and an engine failure earlier this weekend, he also lost his front wing in the first corner and had to pit 5 times! It surely was one of those weekends nothing seemed to work.
See more F1 statistics in current 2016 F1 championship standings and our Top 100 all time driver rankings list.
F1 classification 2016 Chinese GP
Fastest lap: 1:39.824 min by Nico Hulkenberg, Force India VJM09 on lap 48.
✅ Check out 2016 F1 Championship Standings
✅ Check out 2016 F1 Teams & Drivers
✅ Check out All Time F1 Drivers Rankings
✅ Check out All Time F1 Driver Records
✅ Check out All Time F1 Teams Rankings
---
✅ Check out more posts with related topics: