2016 Abu Dhabi Grand Prix F1 Race Results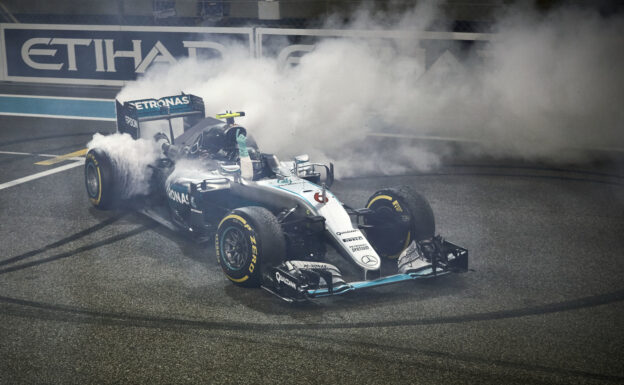 Event: Abu Dhabi Grand Prix
Track: Yas Marina Circuit
Weather: 27°C dry and sunny
Tarmac: 38°C dry
Humidity: 66%
Lewis Hamilton won the 2016 Abu Dhabi Grand Prix from start to finish.
It was his 53rd win of his F1 career and the 10th win of the 2016 F1 season. Mercedes won their 64th win today and their 36th 1-2 finish.
Right after the start of the race the top 4 came out clean to the first corner. Max Verstappen hit the Force India of Nico Hulkenberg and spun. The Dutchman had to recover from last and drove a very good race again and finished as 4th.
Nico Rosberg won the 2016 F1 drivers title by finishing second and could celebrate this on the podium. At the end of the race Hamilton slowed down his pace. By backing up his teammate he hoped that Sebastian Vettel and Max Verstappen would pass his German teammate. Hamilton needed Rosberg to finish 4th, to win the drivers title.
F1 classification 2016 Abu Dhabi GP
| P | No | Driver | Team | Time | Laps | Grid | Pts |
| --- | --- | --- | --- | --- | --- | --- | --- |
| 1 | 44 | Lewis Hamilton | Mercedes | 01:38:04.013 | 55 | 1 | 25 |
| 2 | 6 | Nico Rosberg | Mercedes | 01:38:04.452 | 55 | 2 | 18 |
| 3 | 5 | Sebastian Vettel | Ferrari | 01:38:04.856 | 55 | 5 | 15 |
| 4 | 33 | Max Verstappen | Red Bull | 01:38:05.698 | 55 | 6 | 12 |
| 5 | 3 | Daniel Ricciardo | Red Bull | 01:38:09.328 | 55 | 3 | 10 |
| 6 | 7 | Kimi Räikkönen | Ferrari | 01:38:22.829 | 55 | 4 | 8 |
| 7 | 27 | Nico Hülkenberg | Force India | 01:38:54.127 | 55 | 7 | 6 |
| 8 | 11 | Sergio Pérez | Force India | 01:39:02.789 | 55 | 8 | 4 |
| 9 | 19 | Felipe Massa | Williams | 01:39:03.449 | 55 | 10 | 2 |
| 10 | 14 | Fernando Alonso | McLaren | 01:39:03.909 | 55 | 9 | 1 |
| 11 | 8 | Romain Grosjean | Haas | 01:39:20.790 | 55 | 14 | 0 |
| 12 | 21 | Esteban Gutierrez | Haas | 01:39:39.126 | 55 | 13 | 0 |
| 13 | 31 | Esteban Ocon | Manor | 01:38:34.474 | 54 | 20 | 0 |
| 14 | 94 | Pascal Wehrlein | Manor | 01:38:40.779 | 54 | 16 | 0 |
| 15 | 9 | Marcus Ericsson | Sauber | 01:38:41.672 | 54 | 22 | 0 |
| 16 | 12 | Felipe Nasr | Sauber | 01:38:47.042 | 54 | 19 | 0 |
| 17 | 30 | Jolyon Palmer | Renault | 01:38:55.205 | 54 | 15 | 0 |
| DNF | 55 | Carlos Sainz | Toro Rosso | Collision damage | 41 | 21 | 0 |
| DNF | 26 | Daniil Kvyat | Toro Rosso | Gearbox | 14 | 17 | 0 |
| DNF | 22 | Jenson Button | McLaren | Front Suspension | 12 | 12 | 0 |
| DNF | 77 | Valtteri Bottas | Williams | Suspension | 6 | 11 | 0 |
| DNF | 20 | Kevin Magnussen | Renault | Suspension | 5 | 18 | 0 |
Notes:
Jolyon Palmer, Renault RS16, Car 30 - 5 second time penalty - Causing a collision
Fastest lap: 1:43.729 on lap 43,192.756 km/h by Sebastian Vettel, Ferrari SF16-H
✅ Check out 2016 F1 Championship Standings
✅ Check out 2016 F1 Teams & Drivers
✅ Check out All Time F1 Drivers Rankings
✅ Check out All Time F1 Driver Records
✅ Check out All Time F1 Teams Rankings
---
✅ Check out more posts with related topics: