Race Results 2015 Malaysian F1 GP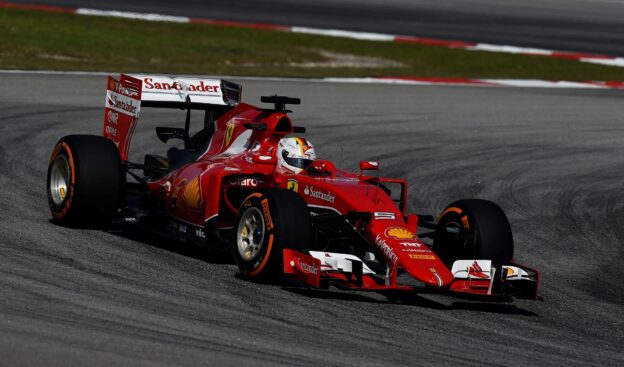 Event: Malaysian grand prix
Track: Sepang circuit
Weather: 33ºC dry
Track: 54ºC
Sebastian Vettel made his dream come trough by winning his first race for Ferrari. It's his 40th formula one race win and the 223th victory for Ferrari.
Lewis Hamilton was favorite to win the 2015 Malaysian grand prix but his tyres could not held up long enough and had to settle for 2nd with his Mercedes. His teammate Nico Rosberg got 3rd place.
Read mor in our 2015 Malayisan F1 GP report.
Classification 2015 Malaysian F1 GP
| P | No | Driver | Team | Time | Laps | Grid | Pts |
| --- | --- | --- | --- | --- | --- | --- | --- |
| 1 | 5 | Sebastian Vettel | Ferrari | 01:41:05.793 | 56 | 2 | 25 |
| 2 | 44 | Lewis Hamilton | Mercedes | 01:41:14.362 | 56 | 1 | 18 |
| 3 | 6 | Nico Rosberg | Mercedes | 01:41:18.103 | 56 | 3 | 15 |
| 4 | 7 | Kimi Räikkönen | Ferrari | 01:41:59.615 | 56 | 11 | 12 |
| 5 | 77 | Valtteri Bottas | Williams | 01:42:16.202 | 56 | 8 | 10 |
| 6 | 19 | Felipe Massa | Williams | 01:42:19.379 | 56 | 7 | 8 |
| 7 | 33 | Max Verstappen | Toro Rosso | 01:42:19.379 | 56 | 6 | 6 |
| 8 | 55 | Carlos Sainz | Toro Rosso | 01:41:07.902 | 55 | 15 | 4 |
| 9 | 26 | Daniil Kvyat | Red Bull | 01:41:08.929 | 55 | 5 | 2 |
| 10 | 3 | Daniel Ricciardo | Red Bull | 01:41:16.857 | 55 | 4 | 1 |
| 11 | 8 | Romain Grosjean | Lotus F1 | 01:41:34.538 | 55 | 10 | 0 |
| 12 | 12 | Felipe Nasr | Sauber | 01:41:37.045 | 55 | 16 | 0 |
| 13 | 11 | Sergio Pérez | Force India | 01:41:54.237 | 55 | 14 | 0 |
| 14 | 27 | Nico Hülkenberg | Force India | 01:41:54.692 | 55 | 13 | 0 |
| 15 | 98 | Roberto Merhi | Manor | 01:41:44.486 | 53 | 19 | 0 |
| DNF | 13 | Pastor Maldonado | Lotus F1 | Technical | 47 | 12 | 0 |
| DNF | 22 | Jenson Button | McLaren | Turbo | 41 | 17 | 0 |
| DNF | 14 | Fernando Alonso | McLaren | ERS cooling | 21 | 18 | 0 |
| DNF | 9 | Marcus Ericsson | Sauber | Spun off | 3 | 9 | 0 |
| WD | 28 | Will Stevens | Manor | +56 laps | 0 | 20 | 0 |
Fastest lap:  1:42.062 min by Nico Rosberg  - Mercedes W06 - lap 43
Highest speed:   327.0 km/h by Valtteri Bottas, Williams Martini Racing
✅ Check out 2015 F1 drivers championship
✅ Check out 2015 F1 constructors championship
✅ Check out 2015 F1 Teams & Drivers
✅ Check out All Time F1 Drivers Rankings
✅ Check out All Time F1 Driver Records
✅ Check out All Time F1 Teams Rankings
---
✅ Check out more posts with related topics: