Qualifying results 2018 Monaco F1 Grand Prix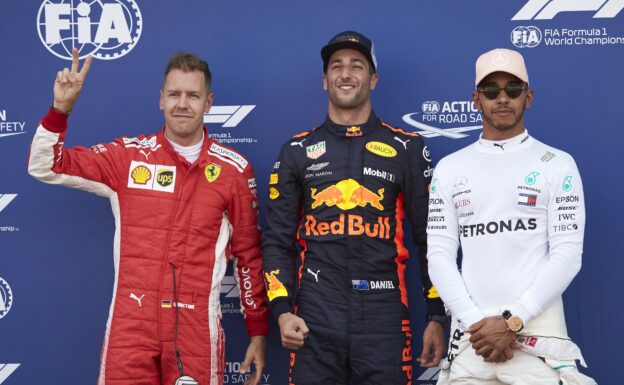 Event: Monaco Grand Prix
Track: Monaco Circuit
Weather:  Sunny, Clear Sky,  25.8ºC
Tarmac: Dry, 49.8ºC
Wind speed: 1.8 km/h
Humidity: 50.7%
Daniel Ricciardo scored his 2nd pole position of his Formula 1 career. His first pole was also on in Monaco 2 years ago. It was the 59th pole position for Red Bull Racing.
Home boy Charles Leclerc was the first to set a lap time in Q1 in the Alfa Romeo Sauber C37.
The Red Bull Racing team was still working during Q1 on the car of Max Verstappen The Dutch driver crashed the RB14 in turn 15 during FP3 and caused a lot of damage on his car. Verstappen's teammate Daniel Ricciardo was already the fastest in the previous 3 practice sessions. He set the fastest lap in Q1 right away. His time wasn't beaten by any other driver in Q1.
The fastest lap time of last year was 01:12.178 set by Kimi Raikkonen in the Ferrari SF70H. Today's quickest lap time of Ricciardo was 1.368 sec. faster. The big difference is of course caused by Pirelli's Hyper soft tyres, but also by the great built RB14 and very talented Daniel Ricciardo.
In Q2 Ricciardo also was the quickest and drove the quickest lap ever seen in Monaco.
Both Mercedes drivers Lewis Hamilton and Valtteri Bottas tried to set their fastest lap in Q2 on the purple Ultra soft tyres. They tried this because you have to start the race on the tyre you have set your quickest lap time on during Q2. The Hyper tyres already get blisters after 5 laps on the Mercedes. But they couldn't get into the top 10, so they were forced to use the Hyper tyres to get in to Q3 and also will start on the Hyper soft tyres, same as all other teams.
Pierre Gasly was the first to set a lap time in Q3 with the Toro Rosso. Lewis Hamilton was the first driver to set a lap time in Q3 in the 1:11.2 min. But then came Daniel Ricciardo with an unbelievable time of 1:10.810 min which was again the fastest lap time ever driven in Monaco.
See an overview of all 2018 F1 drivers with pictures and all statistics.
Qualifying times 2018 Monaco GP
Penalties:
Romain Grosjean (Haas car no.8) 3 places grid penalty due to causing a collision in Spain
---
✅ Check out more posts with related topics: