Qualifying results 2018 Abu Dhabi F1 Grand Prix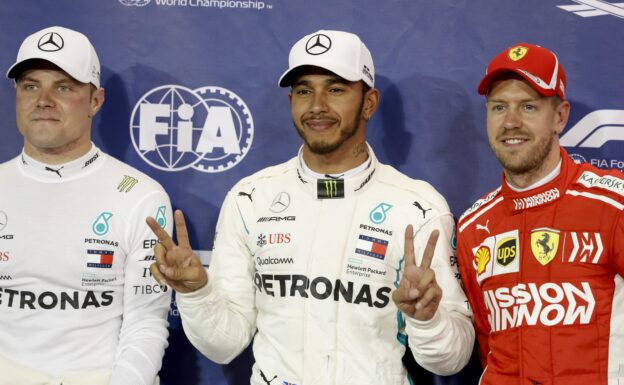 24 November 2018 by
Leopold
3 min read
Event: Abu Dhabi Grand Prix
Track: Yas Marina Circuit
Weather: Sunny & Dry
Air temp: 28ºC
Tarmac: Dry, 32ºC
Wind speed: 2.5 km/h
Humidity: 48%
Lewis Hamilton scored his 83rd F1 pole position during the 2018 Abu Dhabi qualifying session today. He will start from P1 for the 4rd time at Yas Marina circuit in his F1 career tomorrow.
The weather is not an issue in sunny Abu Dhabi. Under warm and sunny conditions the last qualifying session started at sunset and finished in darkness.
Q1
Charles Leclerc (Sauber) and Fernando Alonso (McLaren), who drives his last race in Abu Dhabi were the first to record a lap time. In the first stint Valtteri Bottas was slower in the Mercedes than both Red Bull drivers. Esteban Ocon (Force India) and Alonso were a big surprise with Ocon on P4 and Alonso on P14. The Spanish driver was 0.8s quicker than his teammate Stoffel Vandoorne, who also drives his last race in Abu Dahbi. Vandoorne is out-qualified by Alonso at all grand prix' this season. Pierre Gasly (Toro Rosso) had an einge failure in the last part of his last lap and didn't make it to Q2.
Q2
In Q2 it was Lewis Hamilton who drove out and clocked an amazing lap time of 1:35.693 min on Ultrasoft tyres on his Mercedes. His team mate Bottas was looking at a big gap of 0.7 sec. slower. Verstappen didn't drive a very good first stint and was 3 tents slower than his teammate Ricciardo in the Red Bull to get P10. His second stint was a lot better on the Hypersoft tyres and got him P2. Charles Leclerc had a very good lap in the Sauber and was 5th quickest and best of the rest.
Q3
The last Q3 of the year started when it was already dark. was only 10 mintues long and has 2 stints. In the first stint Hamilton again was quickest, but the top 6 was very tight. The time difference after the first stint between P1 and P6 was only 0.294 sec.
Last year Valtteri Bottas won pole position on the Yas Marina track. His time was 1:36.231 min in the Mercedes of last season.
Here you can read our article on what to expect from the 2018 Abu Dhabi F1 GP.
Here you can find all 2018 Used F1 Power Unit Elements by each driver.
Qualifying Times 2018 Abu Dhabi GP
---
Check out more items on this website about: