Lap times 3rd practice 2018 Monaco F1 Grand Prix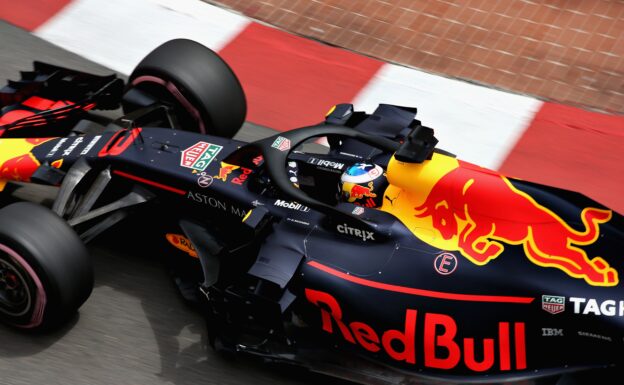 Event: Monaco Grand Prix
Track: Monaco Circuit
Weather:  Sunny, Clear Sky,  23.5ºC
Tarmac: Dry, 40.4ºC
Wind speed: 3.2 km/h
Humidity: 62.7%
The final practice for the 2018 Monaco Grand Prix showed a very quick Red Bull RB14 again.
Max Verstappen was the first who set the fastest lap time below the 1:12 and together with his teammate Daniel Ricciardo they topped the time sheets the whole session.
In the last 5 minutes the practice session was red flagged, because Verstappen tried to go even faster and crashed. Half way his last lap he was entering the swimming pool section and had to avoid  a car that was driving slow and scrapped the barrier in turn 15 with his right front wheel.
The force on the wheel broke his right front steering rod and Max lost control of the RB14 to crash into the barrier. Hopefully the Red Bull mechanics can fix his car in time for qualifying this afternoon.
After the mechanics cleaned up the track his teammate Daniel Ricciardo could put in another quick lap and clocked the fastest lap time until now with a difference of only 1 thousand of a second.
3rd practice times 2018 Monaco GP
| | | | | | | | |
| --- | --- | --- | --- | --- | --- | --- | --- |
| Pos | No | Driver | Team | Lap Time | 1st Gap | Laps | Tyres |
| 1 | 3 | Daniel Ricciardo | Red Bull | 1:11,786 | | 22 | Hyper |
| 2 | 33 | Max Verstappen | Red Bull | 1:11,787 | +0,001s | 14 | Hyper |
| 3 | 5 | Sebastian Vettel | Ferrari | 1:12,023 | +0,237s | 22 | Hyper |
| 4 | 7 | Kimi Räikkönen | Ferrari | 1:12,142 | +0,356s | 25 | Hyper |
| 5 | 44 | Lewis Hamilton | Mercedes | 1:12,273 | +0,487s | 25 | Hyper |
| 6 | 77 | Valtteri Bottas | Mercedes | 1:12,356 | +0,570s | 26 | Hyper |
| 7 | 28 | Brendon Hartley | Toro Rosso | 1:12,752 | +0,966s | 24 | Hyper |
| 8 | 10 | Pierre Gasly | Toro Rosso | 1:12,761 | +0,975s | 22 | Hyper |
| 9 | 55 | Carlos Sainz | Renault | 1:12,850 | +1,064s | 23 | Hyper |
| 10 | 35 | Sergey Sirotkin | Williams | 1:12,854 | +1,068s | 22 | Hyper |
| 11 | 2 | Stoffel Vandoorne | McLaren | 1:12,874 | +1,088s | 24 | Hyper |
| 12 | 31 | Esteban Ocon | Force India | 1:12,940 | +1,154s | 22 | Hyper |
| 13 | 11 | Sergio Pérez | Force India | 1:13,025 | +1,239s | 21 | Hyper |
| 14 | 27 | Nico Hülkenberg | Renault | 1:13,112 | +1,326s | 25 | Hyper |
| 15 | 14 | Fernando Alonso | McLaren | 1:13,279 | +1,493s | 24 | Hyper |
| 16 | 18 | Lance Stroll | Williams | 1:13,595 | +1,809s | 25 | Hyper |
| 17 | 16 | Charles Leclerc | Sauber | 1:13,644 | +1,858s | 24 | Hyper |
| 18 | 8 | Romain Grosjean | Haas | 1:13,881 | +2,095s | 20 | Hyper |
| 19 | 20 | Kevin Magnussen | Haas | 1:14,192 | +2,406s | 19 | Hyper |
| 20 | 9 | Marcus Ericsson | Sauber | 1:14,221 | +2,435s | 27 | Hyper |
---
✅ Check out more posts with related topics: