Lap times 3rd practice 2018 Abu Dhabi F1 Grand Prix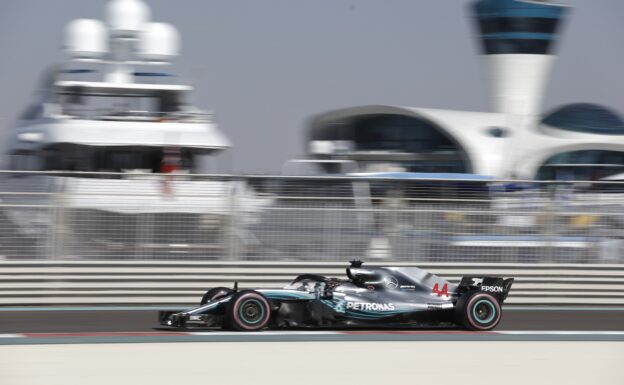 Event: Abu Dhabi Grand Prix
Track: Yas Marina Circuit
Weather:   Sunny & Dry
Air temp:  31.2ºC
Tarmac: Dry, 43.6ºC
Wind speed: 6.1 km/h
Humidity: 29.5%
Sergey Sirotkin was the first to put a lap time on the boards. He drove 1:42.574 on Hypersoft (pink) tyres with the Williams FW41. He also
20 minutes into the FP3 it was Charles Leclerc who spun of the track in turn 19 and broke the back wing of the Sauber C37 with Ferrari power unit. He was able to drove to the pits, but left his wing on the track.
In the first half of the session Max Verstappen didn't drive any lap. He came out of the pits with his Red Bull  on Ultrasofts and was 2nd quickest with a 1:39.086. Right behind Lewis Hamilton drove a lap with his Mercedes on the Hyperstofts and grabbed P2 from Verstappen with a 1:39.032. Halfway this 3rd practice session Sebastian Vettel was quickest in the Ferrari with a 1:38.668 min on Hypersofts.
Hamilton wasn't pleased with his lap time and went for the top of the time sheet. He went out with his Mercedes on Hypersofts again and clocked a 1:37.176 min. This was the quickest lap time driven after 43 minutes into the FP3 session.
In the last 10 minutes of the session a lot of drivers fitted the quickest Hyperstoft tyres under their car and tried to beat the time of Hamilton. Dutchman Verstappen couldn't improve the quickest lap time of Hamilton, but did improve his own time to 1:37.747 min.
Last years fastest lap in FP3 was 1:37.627 was also driven by Lewis Hamilton in the Mercedes. He did it on Ultrasoft tyres. Today's time is  0.451s quicker.
Read our article on what to expect from the 2018 Abu Dhabi F1 GP.
See all 2018 Used F1 Power Unit Elements by each driver.
FP3 Lap Times 2018 Abu Dhabi GP
---
Check out more items on this website about: