Lap times 3rd free practice 2019 Spanish F1 GP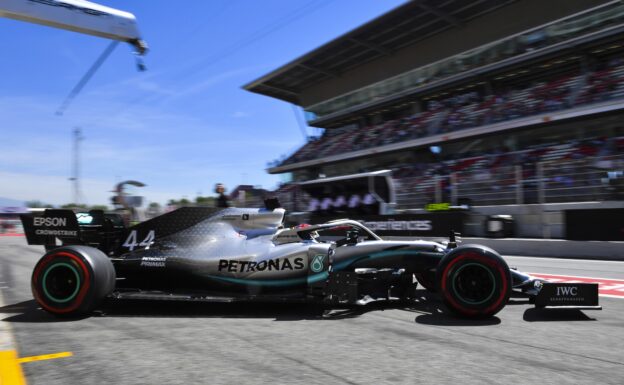 Event: Spanish Grand Prix
Track: Catalunya Circuit
Weather: 21.0-19.8°C cloudy & dry
Tarmac: 29.0-26.1°C dry
Humidity: 65.1%
Wind: 1.0 m//s
Pressure: 1024.9 bar
Because the weather in the final and 3rd practice session is mostly cloudy, the catalunya track surface was 13°C colder than during yesterdays FP2  for the 2019 Spanish F1 GP.
Sebastian Vettel was the first driver of the top team drivers to set a lap time. His first time was 1:18.925.
After 20 minutes we saw a rare error made by Valtteri Bottas. On his first out lap on cold tyres, he spun the Mercedes W10 in turn 5 and caused a red flag which stopped the session to get it out of the gravel trap.
With 16 minutes to go Bottas returned to the track on new soft tyres to drive a few qualifying laps. His team mate Hamilton and rival Vettel also did the same.
With 5 minutes to go FP3 was ended when Williams driver George Russel lost control of his car in turn 4 and ended up backwards into the barrier.
Last years quickest lap time was a 1:17.281 also driven by Hamilton.
FP3 Lap Times 2019 Spanish GP
---
Check out more items on this website about: