Lap times 2nd practice 2018 French F1 Grand Prix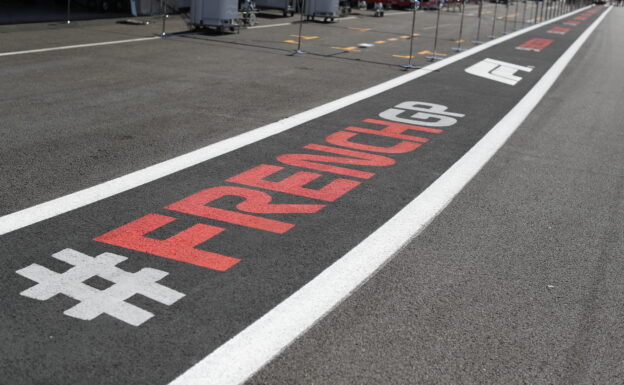 Event: French Grand Prix
Track: Circuit Paul Ricard
Weather:  Sunny, clear sky,  29.5ºC
Tarmac: Dry, 50.8ºC
Wind speed: 9.7 km/h
Humidity: 32.6%
The second practice for the French GP was a lot warmer than the first. The tarmac was over 50ºC!
This weekend Pirelli brought the Ultrasoft (purple), Supersoft (red) and the soft (yellow) tyres to Paul Ricard.
Pierre Gasly team Toro Roso was penalised with a fine of € 10.000,- for being 2:43 min. to late with his first set of tyres for inspection.
Kevin Magnussen was the first to set a lap time in the Haas VF-17 during 2nd practice and Kimi Raikkonen was the first who spun his car in turn 2.
Sebastian Vettel said that the track has much more dust and was therefore slower than first practice.
In the early stages of the practice both Mercedes drivers again showed a very good pace and were half a second faster than the rest of the cars. After 40 minutes Ricciardo drove the quickest lap time when Sergio Pérez lost his lef-right wheel and the session got red flagged. Perez was able to keep his car out of the barriers and was brought back to the pit.
Halfway the session Bottas had to stay in the garage because his car had a problem with the coolingsystem.
With 8 minutes on the clock the Honda engine of Brandon Hartley's Toro Rosso failed and the New Zealander had to stop his car.
2nd Practice Times 2018 French GP
---
✅ Check out more posts with related topics: