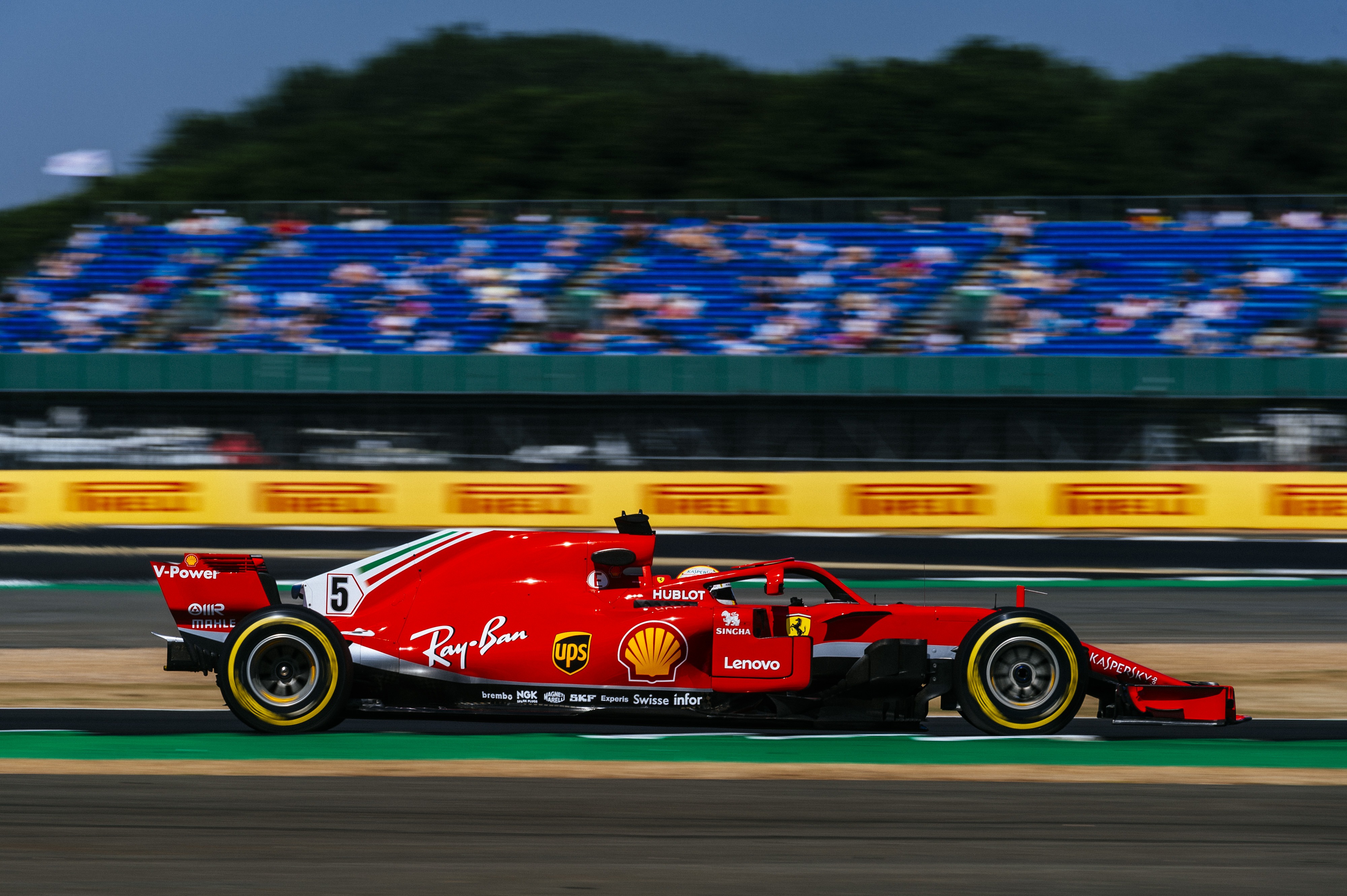 Event: British Grand Prix
Track: Silverstone Circuit
Weather:  Part Cloud,  25.9ºC
Tarmac: 51.3ºC
Wind speed: 4.7 km/h
Humidity: 36.8%
Second practice started without Romain Grojsean, who crashed his Haas in FP1.
After ten minutes it was Max Verstappen who crashed his Red Bull. The Dutchman lost the rear of the RB14 coming out of Luffield corner and caused a red flag. Unfortunately he hit the wall with the right side of the car and broke his right-rear suspension.
After 8 minutes of red flag period the session was green flagged and it was Daniel Ricciardo who got out as first to get the necessary laps under his belt.
Kimi Raikkonen started off with a quick lap on Soft tyres and after half an hour into the session he drove a 1:28.525 min. He was the fastest in sector 1 and 2 then.
All teams tried their qualifying settings for tomorrow on the Soft tyres (yellow). Nico Hulkenberg was doing a good job being 6th and best of the rest in the Renault RS18.
It was Pierre Gasly who had to retire his car after 1 hour of practice. He seem to have a fuel pressure problem.
Fernando Alonso showed great pace with the McLaren. He took over the best of the race P6 of Hulkenberg. We haven't seen a McLaren driving on P6 for a long long time. Incredible to see he is still losing 1.7 sec. a lap on Sebastian Vettel's lap time in the Ferrari SF71H.
Kimi Raikkonen again struggled in Luffield corner. Just like in FP1 he had to correct his Ferrari a lot going in to Luffield.
Romain Grosjean didn't drive this session. He crashed his car in FP1 in turn 1. His mechanics could not fix his car soon enough to FP2.
Leclerc also had a Luffield off-track adventure in the Sauber, just like Raikkonen did in FP1. He was also able to continue the session.
Verstappen didn't got back on the track in Silverstone and lost precious track time on the newly surfaced circuit.
FP2 Lap Times 2018 British GP
---
Check out more items on this website about:
---