Lap times 2nd practice 2018 Abu Dhabi F1 Grand Prix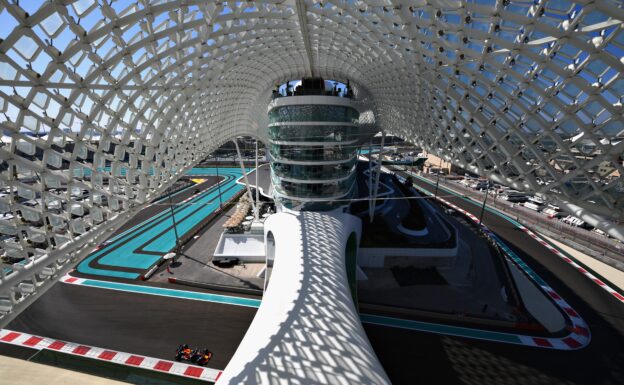 Event: Abu Dhabi Grand Prix
Track: Yas Marina Circuit
Weather:   Sunny & Dry
Air temp:  26ºC
Tarmac: Dry, 30ºC
Wind speed: 5.4 km/h
Humidity: 54%
In FP2 the teams and drivers also had 1,5 hours to test out their car setup with similar day time conditions as the race of Sunday. The race also starts at sunset and finishes in complete darkness.
The Yas Marina circuit had a new sausage type kerb on the short straight between turn 20 and 21. A lot of drivers hit the new orange kerb stone. The kerb got even damaged by the cars and kicked up a lot of dust. Max Verstappen even got trapped on the kerb and had to go to the pits to check the damaged floor under the RB14.
The 3 top teams Mercedes, Ferrari and Red Bull drove very similar lap times and the whole session we saw the 6 drivers beat each others lap time almost every lap. Halfway the session it was Valtteri Bottas who was quickest with a 1:37.236.
All teams were doing long runs and qualifying simulations. The Red Bull RB14 of Max Verstappen looked very good during the long runs. He was even faster than Lewis Hamilton's Mercedes.
The quickest lap of FP2 last year was 1:37.877 driven by Lewis Hamilton on Ultrasoft tyres with the Mercedes W08. The quickest lap time of Bottas was 0.641s faster than last years quickest lap around the Yas Marina circuit.
Read more in what to expect from the 2018 Abu Dhabi F1 GP.
See all 2018 Used F1 Power Unit Elements by each driver.
FP2 Lap Times 2018 Abu Dhabi GP
---
Check out more items on this website about: