Lap times 2nd free practice 2019 Azerbaijan F1 GP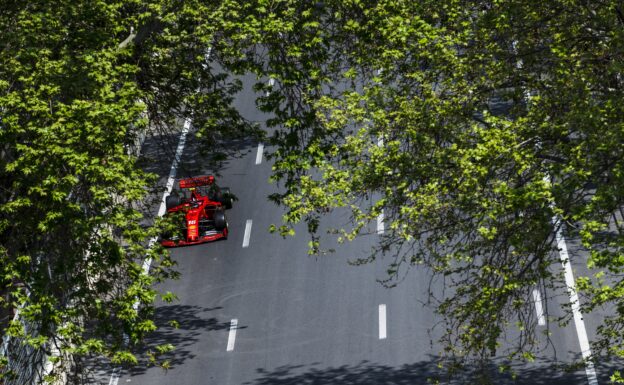 Event: Azerbaijan Grand Prix
Track: Baku street circuit
Weather: 18.3-16.7°C sunny & dry
Tarmac: 36.2-26.8°C dry
Humidity: 54.1%
Wind: 1.5 m//s
Pressure: 1025.6 bar
After the very short FP1 session, due to a loose man hole cover, all 320 man hole covers were checked and the street circuit was called safe again in Baku for the second free practice towards the Azerbaijan Formula 1 Grand Prix. George Russel's Williams was severely damaged by the impact with the man hole cover in FP1. His car has to almost be rebuild completely and therefor wasn't able to drive in this FP2 session.
Because the cars hardly run any laps in FP1 it was very busy on the track right away at the start off the session. Just like in FP1 the session was red flagged after 15 minutes. This time Lance Stroll had hit the barrier with the Racing Point in turn 2. He damaged the complete left front of the RP19 and had to end his FP2 after 8 laps. Because of the red flag all cars had to go to the pits and wait there until the track was clear again. It took over 10 minutes before the track was ready.
The track was still very green and we saw a lot of drivers fighting for grip and using escape roads to avoid a collisions for not making the corner. Almost every driver out braked himself or couldn't make a corner.
Ferrari dominated the session and both drivers leaded by Charles Leclerc in front of Sebastian Vettel topped the time sheet the whole session. Two/third into the session it was Toro Rosso driver who caused the second red flag of this FP2 when he hit the wall coming out of turn 7. The brake of his left front was so hot, that flames came out of his rim when he stepped out of the car.
With 17 minutes to go the track was cleared and both Ferrari's got out the pits as first. The Racing Point team worked hard to get Lance Stroll's car fixed and get going again. Stroll did get into his car, but didn't make it to the track.
In the last laps of FP2 Haas driver Kevin Magnussen and Mercedes driver Lewis Hamilton almost collided in turn one of the fastest turns of the track
The fastest lap time of last year was 1:42.795 driven by Daniel Ricciardo in the Red Bull RB14.
FP2 Lap Times 2019 Azerbaijan GP
---
✅ Check out more posts with related topics: