Lap times 1st practice 2014 Austrian F1 Grand Prix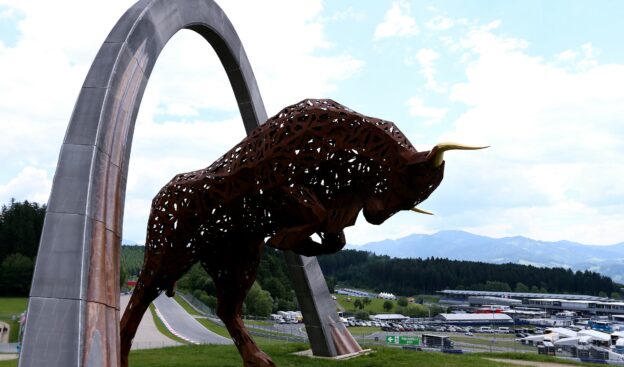 Event: Austrian Grand Prix
Track: Red Bull Ring
First practice for the 2014 Formula 1 Grand Prix of Austria has been driven under moist circumstances. During the session driving in beautiful scenery of the Alpes, a few drops of rain were falling on the circuit.
Nico Rosberg and Lewis Hamilton both showed the speed of the Mercedes W05 and topped the timetable again. Fernando Alonso was surprisingly quick and 3rd fastest for Ferrari.
Sebastian Vettel who was pushing hard to be quick, had a harsh moment coming out of turn 9. After cornering turn 9 he ended up to wide and went over the curbs onto the grass and made a fabulous double 360 spin. Remarkably he could drive away without any damage.
FP1 Lap Times 2014 Austrian GP
| | | | | | | |
| --- | --- | --- | --- | --- | --- | --- |
| Pos | No | Driver | Team | Lap Time | 1st Gap | Laps |
| 1 | 6 | Nico Rosberg | Mercedes | 1:11,295 |  - | 19 |
| 2 | 44 | Lewis Hamilton | Mercedes | 1:11,435 | 0,140 | 32 |
| 3 | 14 | Fernando Alonso | Ferrari | 1:11,606 | 0,311 | 23 |
| 4 | 19 | Felipe Massa | Williams | 1:11,756 | 0,461 | 27 |
| 5 | 22 | Jenson Button | McLaren | 1:11,839 | 0,544 | 33 |
| 6 | 11 | Sergio Pérez | Force India | 1:12,009 | 0,714 | 33 |
| 7 | 27 | Nico Hülkenberg | Force India | 1:12,072 | 0,777 | 20 |
| 8 | 77 | Valtteri Bottas | Williams | 1:12,114 | 0,819 | 21 |
| 9 | 20 | Kevin Magnussen | McLaren | 1:12,313 | 1,018 | 36 |
| 10 | 25 | Jean-Eric Vergne | Toro Rosso | 1:12,364 | 1,069 | 30 |
| 11 | 7 | Kimi Räikkönen | Ferrari | 1:12,365 | 1,070 | 21 |
| 12 | 26 | Daniil Kvyat | Toro Rosso | 1:12,372 | 1,077 | 35 |
| 13 | 3 | Daniel Ricciardo | Red Bull | 1:12,570 | 1,275 | 28 |
| 14 | 21 | Esteban Gutierrez | Sauber | 1:12,984 | 1,689 | 29 |
| 15 | 1 | Sebastian Vettel | Red Bull | 1:12,988 | 1,693 | 25 |
| 16 | 8 | Romain Grosjean | Lotus F1 | 1:13,168 | 1,873 | 28 |
| 17 | 13 | Pastor Maldonado | Lotus F1 | 1:13,642 | 2,347 | 27 |
| 18 | 17 | Jules Bianchi | Manor | 1:13,738 | 2,443 | 26 |
| 19 | 4 | Max Chilton | Manor | 1:13,857 | 2,562 | 28 |
| 20 | 10 | Kamui Kobayashi | Caterham | 1:14,611 | 3,316 | 24 |
| 21 | 99 | Adrian Sutil | Sauber | 1:14,691 | 3,396 | 9 |
| 22 | 9 | Marcus Ericsson | Caterham | 1:17,501 | 6,206 | 8 |
Highest speed: 316.3 km/h by Felipe Massa, Williams FW36
---
Check out more items on this website about: