First Free Practice Results 2023 Miami F1 GP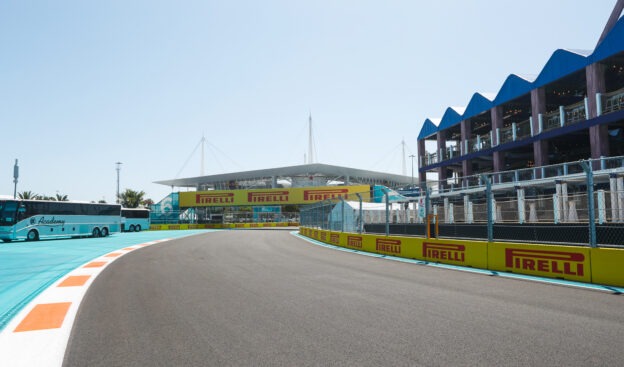 Event: Miami Formula 1 Grand Prix
Track: Miami International Autodrome
Weather: Sunny & dry  29°C
Tarmac: dry  49°C
Humidity: 47%
Wind: 3 km/h SE
Pressure: 1018 bar
Logan Sargeant hails from just up the road, and seems excited for his debut on American soil. While he'll have three races to go at with Austin and Las Vegas still to come, this one is the special one for the Boca Raton native.
Nyck de Vries spun the AlphaTauri again and only could run 10 laps on the Hard tyres.
15 minutes into the session Max Verstappen was on top with a 1:32.465, half a second clear of Hamilton with Alonso in third. Last year's pole was a 1:28.796 so there is plenty of time still to find out there.
Halfway the session the top 10 order of the quickest lap time was: 1. Nico Hulkenberg (Haas) 1:31.392 min (S), 2. Max Verstappen (Red Bull) +0.434s (S), 3.Kevin Magnussen (Haas) +0.461s (S), 4.Charles Leclerc (Ferrari) +1.086s (H), 5. Fernando Alonso (Aston Martin) +1.150s (S), 6. Lewis Hamilton (Mercedes) +1.575s (M), 7. Sergio Pérez (Red Bull) +1.688s (S), 8. Esteban Ocon (Alpine) +1.715s (M), 9. Oscar Piastri (McLaren) +1.760s (M), 10. Carlos Sainz (Ferrari() +1.767s (H)
A few moments later Nico Hulkenberg hit the wall at turn 3 into the wall causing a red flag with 26:37 min to go that ended his session way to soon.
With 15 minutes to go Verstappen did another push lap and moved up by P1 with a lap time of 1:30.549 min.
Last year the quickest lap during FP1 was a 1:31,098 min driven by Charles Leclerc with the Ferrari F1-75
FP1 Times Table 2023 Miami F1 GP
| | | | | | | | |
| --- | --- | --- | --- | --- | --- | --- | --- |
| P | No | Driver | Team | Time | 1st Gap | Laps | Tyres |
| 1 | 63 | George Russell | Mercedes | 1:30,125 | | 17 | S |
| 2 | 44 | Lewis Hamilton | Mercedes | 1:30,337 | +0,212s | 24 | S |
| 3 | 16 | Charles Leclerc | Ferrari | 1:30,449 | +0,324s | 22 | S |
| 4 | 1 | Max Verstappen | Red Bull | 1:30,549 | +0,424s | 22 | S |
| 5 | 55 | Carlos Sainz | Ferrari | 1:30,724 | +0,599s | 22 | S |
| 6 | 10 | Pierre Gasly | Alpine | 1:31,104 | +0,979s | 19 | S |
| 7 | 14 | Fernando Alonso | Aston Martin | 1:31,231 | +1,106s | 24 | S |
| 8 | 18 | Lance Stroll | Aston Martin | 1:31,337 | +1,212s | 23 | S |
| 9 | 27 | Nico Hülkenberg | Haas | 1:31,392 | +1,267s | 14 | S |
| 10 | 31 | Esteban Ocon | Alpine | 1:31,542 | +1,417s | 26 | S |
| 11 | 11 | Sergio Pérez | Red Bull | 1:31,566 | +1,441s | 22 | S |
| 12 | 81 | Oscar Piastri | McLaren | 1:31,810 | +1,685s | 23 | S |
| 13 | 20 | Kevin Magnussen | Haas | 1:31,853 | +1,728s | 24 | S |
| 14 | 77 | Valtteri Bottas | Alfa Romeo | 1:31,902 | +1,777s | 23 | S |
| 15 | 23 | Alex Albon | Williams | 1:31,903 | +1,778s | 24 | S |
| 16 | 4 | Lando Norris | McLaren | 1:31,997 | +1,872s | 23 | S |
| 17 | 24 | Zhou Guanyu | Alfa Romeo | 1:32,134 | +2,009s | 21 | S |
| 18 | 22 | Yuki Tsunoda | AlphaTauri | 1:32,169 | +2,044s | 27 | S |
| 19 | 2 | Logan Sargeant | Williams | 1:32,619 | +2,494s | 26 | S |
| 20 | 21 | Nyck de Vries | AlphaTauri | 1:34,637 | +4,512s | 10 | H |
✅ Check out our 2023 Miami F1 GP preview
---
✅ Check out more posts with related topics: