First Free Practice Results 2021 Hungarian F1 GP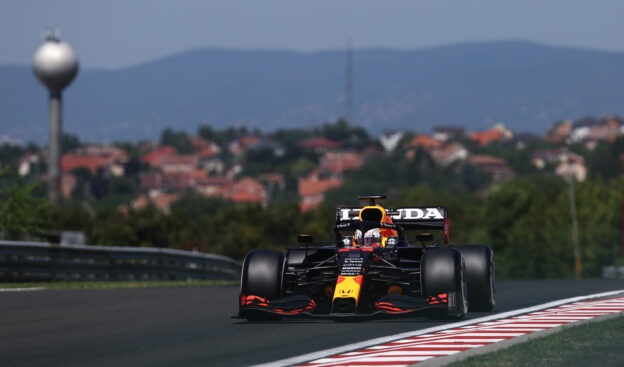 Event: Hungarian Grand Prix
Track: Hungaroring
Weather: dry  30.4-31.0°C
Tarmac: dry  53.1-59.0°C
Humidity : 37.1%
Wind : 0.5 m/s SE
Pressure: 985.5 bar
A lot of cars went out right away when the green light was given for the first free practice in a warm Hungary.
Robert Kubica was driving the Alfa Romeo of Kimi Raikkonen this FP1. The Polish driver clocked the first lap time. Red Bull driver Max Verstappen used the engine that survived the 51G crash at Silverstone 2 weeks ago.
McLaren is still developing their MCL35M as they used flow-FISH on the back of the car near the diffuser.
Verstappen was fastest right away on the hardest (white) tyres. He clocked a 1:19.069 min which was almost 0.7s quicker than Mercedes driver Valtteri Bottas who was second fastest. His teammate Lewis Hamilton was 0.846s slower on P8. Both used the same hard tyre compound.
Fernando Alonso was the first to cause the yellow flag to come out when he lost control of the Alpine. The Spanish driver tried to go as fast as possible through turn 4, where cars drive over 250 kph and found the limit.
Alonso's teammate was surprisingly quick in the Alpine. It took 20 minutes for Esteban Ocon to come out of the garage and was only 0.3s slower than Verstappen and second fastest.
Halfway the session Bottas was the first who fitted the red softest tyres underneath the black Mercedes and clocked a lap time of 1:17.616 min. which was again 1.409s quicker than Verstappen's P1 time. A few moments later His teammate Hamilton did the same and was 0.3s slower than his Finnish teammate.
With 25 minutes to go Ferrari driver Carlos Sainz was third quickest on the red tyres. Verstappen who was still lapping the Hungarian track on the hard tyres had closed the gap on the hard tyres to Bottas on only 1s.
AlphaTauri driver Yuki Tsunoda caused a red flag with 20 minutes to go when the Japanese drivers crashed backwards into the barrier at the same corner where Alonso spun. The session was stopped to recover the car.
The session was restarted with 13 minutes to go. Verstappen's car now was fitted with the red tyres for the first time. At this time the track temperature had increased to a very hot 57.8°C! The Dutch driver wasn't very much quicker than Bottas, but did beat his time by 0.061s.
Hamilton also planned to put in a quick lap, but his timing wasn't great, because his lap was compromised when he came much to close to one of the Ferrari's.
With 5 minutes to the other Red Bull Racing driver Sergio Perez also put in some laps on the red tyres. His first lap time was a 1:18.466, which was 0.911s slower than his teammate.
The quickest lap time of last year's FP1 on Hungaroring was 1:16.003 min, driven by Lewis Hamilton with the Mercedes W11.
FP1 Times Table 2021 Hungarian GP
| | | | | | | |
| --- | --- | --- | --- | --- | --- | --- |
| P | No | Driver | Team | Lap Time | Laps | Tyres |
| 1 | 33 | Max Verstappen | Red Bull | 1:17,550 | 21 | 🔴S (C4) |
| 2 | 77 | Valtteri Bottas | Mercedes | 1:17,616 | 26 | 🔴S (C4) |
| 3 | 44 | Lewis Hamilton | Mercedes | 1:17,722 | 25 | 🔴S (C4) |
| 4 | 55 | Carlos Sainz | Ferrari | 1:18,115 | 24 | 🔴S (C4) |
| 5 | 10 | Pierre Gasly | AlphaTauri | 1:18,181 | 27 | 🔴S (C4) |
| 6 | 14 | Fernando Alonso | Alpine | 1:18,385 | 26 | 🔴S (C4) |
| 7 | 16 | Charles Leclerc | Ferrari | 1:18,391 | 23 | 🔴S (C4) |
| 8 | 11 | Sergio Pérez | Red Bull | 1:18,466 | 20 | 🔴S (C4) |
| 9 | 4 | Lando Norris | McLaren | 1:18,649 | 26 | 🔴S (C4) |
| 10 | 18 | Lance Stroll | Aston Martin | 1:18,755 | 25 | 🔴S (C4) |
| 11 | 31 | Esteban Ocon | Alpine | 1:18,765 | 26 | 🔴S (C4) |
| 12 | 22 | Yuki Tsunoda | AlphaTauri | 1:18,770 | 18 | 🔴S (C4) |
| 13 | 5 | Sebastian Vettel | Aston Martin | 1:18,989 | 22 | 🔴S (C4) |
| 14 | 3 | Daniel Ricciardo | McLaren | 1:19,265 | 27 | 🔴S (C4) |
| 15 | 63 | George Russell | Williams | 1:19,724 | 24 | 🟡M (C3) |
| 16 | 6 | Nicholas Latifi | Williams | 1:19,824 | 24 | 🟡M (C3) |
| 17 | 47 | Mick Schumacher | Haas | 1:20,383 | 26 | 🔴S (C4) |
| 18 | 88 | Robert Kubica | Alfa Romeo | 1:20,639 | 23 | 🟡M (C3) |
| 19 | 9 | Nikita Mazepin | Haas | 1:20,992 | 23 | 🔴S (C4) |
| 20 | 99 | Antonio Giovinazzi | Alfa Romeo | 1:21,889 | 5 | ⚪H (C2) |
---
✅ Check out more posts with related topics: