2013 German Grand Prix F1 Race Results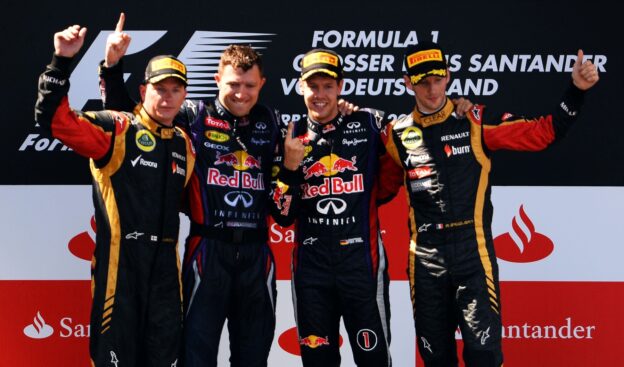 Event: German Grand Prix
Track: Nurburgring
Weather: Dry
Track temperature: 44°C
Air temperature: 25°C
Wind Speed: 5.8 mps
Wind direction: North-East
Air Pressure: 958.0 mBar
Humidity: 31%
Sebastian Vettel won the German Grand Prix on the Nürburgring for the first time today. The battle was very close with Kimi Raikkonen until the finish.
At the start the Red Bulls started very fast and where able to pass Hamilton before the first corner. Massa retired early because he spun off in the 4th lap at the end of the main straight. After this incident di Resta almost collided in the pit with Vergne when he had a unsafe release by his lolly pop guy.
In the 9th lap Webber's race was ruined by a bad pit stop of Red Bull. A FIA cameraman was hit by the rear left tyre of Webber, who was pushed back and got a new tyre and continued the race as 21st. Read full 2013 German Grand Prix report.
Race Result 2013 German GP
| P | No | Driver | Team | Time | Laps | Grid | Pts |
| --- | --- | --- | --- | --- | --- | --- | --- |
| 1 | 1 | Sebastian Vettel | Red Bull | 01:41:14.711 | 60 | 2 | 25 |
| 2 | 7 | Kimi Räikkönen | Lotus F1 | 01:41:15.719 | 60 | 4 | 18 |
| 3 | 8 | Romain Grosjean | Lotus F1 | 01:41:20.541 | 60 | 5 | 15 |
| 4 | 3 | Fernando Alonso | Ferrari | 01:41:22.432 | 60 | 8 | 12 |
| 5 | 10 | Lewis Hamilton | Mercedes | 01:41:41.638 | 60 | 1 | 10 |
| 6 | 5 | Jenson Button | McLaren | 01:41:42.707 | 60 | 9 | 8 |
| 7 | 2 | Mark Webber | Red Bull | 01:41:52.273 | 60 | 3 | 6 |
| 8 | 6 | Sergio Pérez | McLaren | 01:41:53.017 | 60 | 13 | 4 |
| 9 | 9 | Nico Rosberg | Mercedes | 01:42:01.532 | 60 | 11 | 2 |
| 10 | 11 | Nico Hülkenberg | Sauber | 01:42:04.603 | 60 | 10 | 1 |
| 11 | 14 | Paul di Resta | Force India | 01:42:08.482 | 60 | 12 | 0 |
| 12 | 19 | Daniel Ricciardo | Toro Rosso | 01:42:11.686 | 60 | 6 | 0 |
| 13 | 15 | Adrian Sutil | Force India | 01:42:12.449 | 60 | 15 | 0 |
| 14 | 12 | Esteban Gutierrez | Sauber | 01:42:14.871 | 60 | 14 | 0 |
| 15 | 16 | Pastor Maldonado | Williams | 01:42:16.640 | 60 | 18 | 0 |
| 16 | 17 | Valtteri Bottas | Williams | 01:41:23.946 | 59 | 17 | 0 |
| 17 | 20 | Charles Pic | Caterham | 01:41:50.508 | 59 | 22 | 0 |
| 18 | 21 | Giedo van der Garde | Caterham | 01:41:55.601 | 59 | 20 | 0 |
| 19 | 23 | Max Chilton | Manor | 01:42:00.415 | 59 | 21 | 0 |
| DNF | 18 | Jean-Eric Vergne | Toro Rosso | Hydraulics | 22 | 16 | 0 |
| DNF | 22 | Jules Bianchi | Manor | Blown Engine | 21 | 19 | 0 |
| DNF | 4 | Felipe Massa | Ferrari | Spin | 3 | 7 | 0 |
Charles Pic had to start at the back as 22nd because of a gearbox replacement.
Fastest lap: Fernando Alonso with his Ferrari F138: 01:33:468 in lap 51
Highest speed: 308 km/h by NIco Rosberg, Mercedes W04
✅ Check out 2013 F1 drivers championship
✅ Check out 2013 F1 constructors championship
✅ Check out 2013 F1 Teams & Drivers
✅ Check out All Time F1 Drivers Rankings
✅ Check out All Time F1 Driver Records
✅ Check out All Time F1 Teams Rankings
---
✅ Check out more posts with related topics: