2023 Spanish Formula 1 Grand Prix Results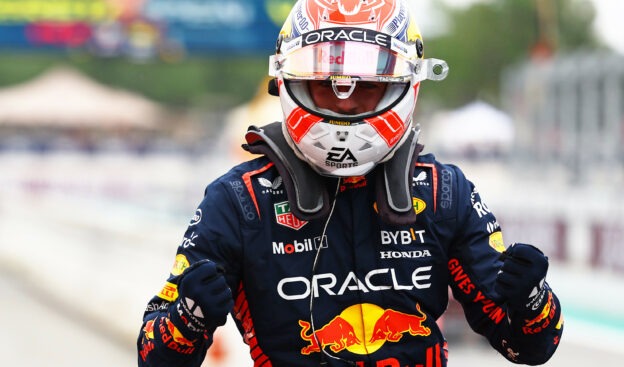 Event: Spanish Grand Prix
Track: Catalunya Circuit
Weather: dry  22°C
Tarmac: dry  32°C
Humidity: 65%
Wind: 2 km/h N
Pressure: 1001 bar
Max Verstappen scored his 40th F1 race win today. The Dutch driver won the Spanish Formula 1 Grand Prix for the third time. It also was his eight race win of the 2023 season. The Red Bull driver started from pole and drove to victory unthreatened. It was the 99th race win for Red Bull Racing.
2023 Spanish F1 GP Race Report
Max Verstappen from Red Bull delivered a phenomenal performance at the 2023 Spanish Grand Prix, claiming his third consecutive victory this season, while extending his lead in the championship. The Dutchman's performance was dominant, leaving no doubts about his supremacy on the track.
In the backdrop, Lewis Hamilton had a commendable comeback, grabbing the second spot on the podium, closely followed by George Russell, who managed to secure third.
Fans came in droves to cheer on the home favourites, Carlos Sainz and Fernando Alonso, but were instead treated to a Red Bull masterclass, complemented by a rejuvenation of form from the Mercedes duo.
Verstappen concluded the race 22 seconds ahead of Hamilton, a substantial lead to say the least. However, the battle for the third spot was a tighter contest, with Sergio Perez falling short in his attempt to outdo Russell.
Race Highlights
On Lap 64, we saw a fervent pursuit between Russell and Perez, with a gap of 4.5 seconds separating the two. With three laps remaining, it was a thrilling contest as Russell strived to pull away, saving tyres while Perez chased relentlessly.
On the 63rd lap, Yuki Tsunoda was handed a time penalty, pushing him from ninth to twelfth place, with Zhou Guanyu securing a couple of points and Pierre Gasly joining fellow Alpine driver Esteban Ocon in the top 10.
Leclerc had a tough race, struggling with pace throughout. He could only manage P12 with DRS over Gasly, but even a point could bring some consolation after a tough weekend.
On the 57th lap, Perez began closing the gap to Russell. His tyres were eight laps older and the Red Bull's DRS was certainly potent. Zhou's claim of being forced off the track by Tsunoda on the 56th lap was another controversial moment.
Tsunoda put up a fight against Ocon for the eighth spot, while Gasly in P11 was not far off. Zhou's DRS on AlphaTauri also added to the intrigue of the race.
On the 52nd lap, we saw an exciting duel between former teammates Alonso and Ocon. Ocon tried to block Alonso, which might have been seen as controversial, but Alonso managed to overtake him without any contact.
As the race progressed, Verstappen communicated to his team about struggling with his front brakes and overheating. However, the Dutchman still had a comfortable lead of 16 seconds.
Towards the end, Verstappen had a warning for exceeding track limits, but he still comfortably led the race by 15 seconds. Piastri and Charles Leclerc were in the points, but yet to stop a second time, suggesting a potential issue with the Ferrari.
All in all, the 2023 Spanish Grand Prix was an exhibition of Verstappen's masterclass. Despite minor controversies and stiff competition, Verstappen maintained his poise and delivered an exceptional performance.
Sainz ended the race at home in fifth place, followed by Lance Stroll in sixth. Alonso secured the seventh spot, while Ocon managed eighth. Tsunoda, after a penalty, settled for the twelfth spot, with Gasly rounding out the top 10.
With this win, Verstappen looks set to have a strong season, and fans can look forward to more exciting races ahead.
Classification 2023 Spanish GP
Yuki Tsunoda, AlphaTauri #22 received a 5 sec. penalty for forcing another driver off the track.
Fastest lap: 1:16.330 min by Max Verstappen, Red Bull (#1) on lap 61 @219.641 km/h
✅ Check out F1 Standings 2023 Championship
✅ Check out F1 2023 Calendar
✅ Check out All Time F1 Drivers Rankings
✅ Check out All Time F1 Driver Records
✅ Check out All Time F1 Teams Rankings
---
✅ Check out more posts with related topics: