2023 Azerbaijan F1 Grand Prix Results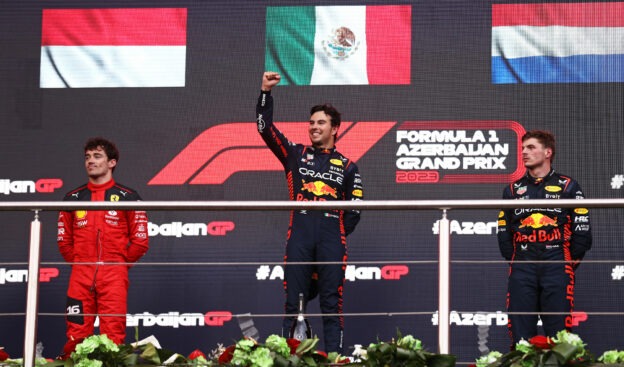 Event: Azerbaijan F1 Grand Prix
Track: Baku street circuit
Weather: dry  25°C
Tarmac: dry  42°C
Humidity: 50%
Wind: 1 km/h E
Pressure: 1009 bar
Sergio Pérez scored his 6th F1 race win today. The Mexican driver won the Azerbaijan F1 GP for the second time. It was his 2nd race win of the 2023 season. The Red Bull driver started from P3 and got a bit lucky with the safety car. It was the 96th race win for Red Bull Racing.
2023 Azerbaijan F1 GP Race Report
Red Bull Racing claims top two positions as Hamilton battles through the field
The 2023 Azerbaijan Formula 1 Grand Prix saw an intriguing mix of strategy and on-track battles, as most of the grid started on Pirelli's Medium compound tyres. However, three drivers – Nyck de Vries in the AlphaTauri, Nico Hulkenberg's Haas, and Esteban Ocon of Alpine – opted to start on the Hard compound tyres in a gamble to achieve their best possible result.
A clean start to the race was followed by a surprising lack of incidents in the early laps. De Vries managed to overtake Valtteri Bottas for 17th place. Once DRS was enabled on lap 3, Max Verstappen used a significant 35 km/h speed advantage to snatch the lead from Ferrari's Charles Leclerc. Shortly after, Sergio Pérez followed suit, demoting Leclerc to third place.
The first pitstops came early for Bottas (Alfa Romeo) and Pierre Gasly (Alpine), who both pitted on lap 7. In the 10th lap, Fernando Alonso was hot on the heels of Lewis Hamilton's Mercedes. As Alonso prepared to overtake, Hamilton dived into the pits for his scheduled stop. Unfortunately for the AlphaTauri team, de Vries was forced to retire soon after due to a broken steering rod. Verstappen then pitted, but the timing coincided with the deployment of the safety car, allowing several drivers to gain a "free" pitstop. This cost Hamilton dearly, as he found himself in 10th place.
As racing resumed, all drivers were on the Hard tyre compound. Hamilton began his charge through the field, overtaking Hulkenberg and Ocon, as well as his teammate George Russell, to climb up to 7th place. On lap 20, an error by Lance Stroll in his Aston Martin at Turn 16 enabled Hamilton to pass him with the assistance of DRS, securing 6th place.
By the race's halfway point, the top 10 order was: 1. Pérez, 2. Verstappen, 3. Leclerc, 4. Alonso, 5. Sainz, 6. Hamilton, 7. Stroll, 8. Russell, 9. Ocon, and 10. Hulkenberg.
Zhou Guanyu was forced to retire his Alfa Romeo on lap 37 due to a technical issue. With 10 laps remaining, the field appeared to have settled, with the most notable battle occurring between Ferrari's Carlos Sainz and Hamilton. Despite coming tantalizingly close on several occasions, Hamilton was unable to pass Sainz due to his Mercedes' lower top speed.
Classification 2023 Azerbaijan GP
| P | No | Driver | Team | Time | Laps | Grid | Pts |
| --- | --- | --- | --- | --- | --- | --- | --- |
| 1 | 11 | Sergio Pérez | Red Bull | 01:32:42.436 | 51 | 3 | 33 |
| 2 | 1 | Max Verstappen | Red Bull | 01:32:44.573 | 51 | 2 | 24 |
| 3 | 16 | Charles Leclerc | Ferrari | 01:33:03.653 | 51 | 1 | 22 |
| 4 | 14 | Fernando Alonso | Aston Martin | 01:33:04.460 | 51 | 6 | 15 |
| 5 | 55 | Carlos Sainz | Ferrari | 01:33:27.927 | 51 | 4 | 14 |
| 6 | 44 | Lewis Hamilton | Mercedes | 01:33:28.581 | 51 | 5 | 10 |
| 7 | 18 | Lance Stroll | Aston Martin | 01:33:34.053 | 51 | 9 | 7 |
| 8 | 63 | George Russell | Mercedes | 01:33:56.676 | 51 | 11 | 10 |
| 9 | 4 | Lando Norris | McLaren | 01:34:02.812 | 51 | 7 | 2 |
| 10 | 22 | Yuki Tsunoda | AlphaTauri | 01:34:06.298 | 51 | 8 | 1 |
| 11 | 81 | Oscar Piastri | McLaren | 01:34:08.937 | 51 | 10 | 0 |
| 12 | 23 | Alex Albon | Williams | 01:34:11.059 | 51 | 12 | 0 |
| 13 | 20 | Kevin Magnussen | Haas | 01:34:12.165 | 51 | 16 | 0 |
| 14 | 10 | Pierre Gasly | Alpine | 01:34:13.768 | 51 | 17 | 0 |
| 15 | 31 | Esteban Ocon | Alpine | 01:34:20.230 | 51 | 19 | 0 |
| 16 | 2 | Logan Sargeant | Williams | 01:34:23.379 | 51 | 14 | 0 |
| 17 | 27 | Nico Hülkenberg | Haas | 01:32:52.373 | 50 | 20 | 0 |
| 18 | 77 | Valtteri Bottas | Alfa Romeo | 01:33:01.534 | 50 | 13 | 0 |
| DNF | 24 | Zhou Guanyu | Alfa Romeo | Technical | 36 | 15 | 0 |
| DNF | 21 | Nyck de Vries | AlphaTauri | Collision | 9 | 18 | 0 |
Fastest lap: 1:43.370 min by George Russell, Mercedes (no.63) on lap 51
✅ Check out F1 Standings 2023 Championship
✅ Check out F1 2023 Calendar
✅ Check out All Time F1 Drivers Rankings
✅ Check out All Time F1 Driver Records
✅ Check out All Time F1 Teams Rankings
---
✅ Check out more posts with related topics: