2020 Spanish Grand Prix Results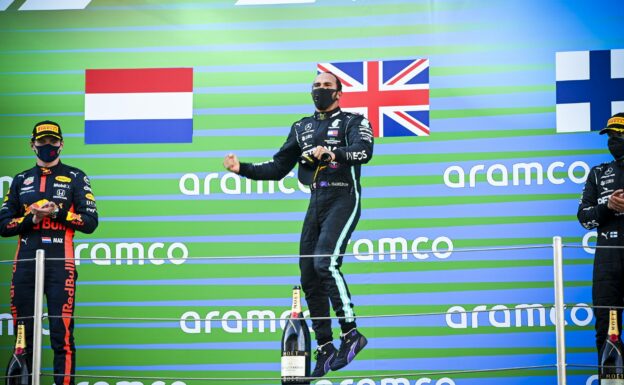 F1 Race Event: Spanish Grand Prix
Race Track: Catalunya Circuit
Weather: dry  29.9°C
Tarmac: dry  49.1°C
Humidity : 56.2%
Wind : 2.2 m/s S
Pressure: 997.8 bar
Lewis Hamilton won the 2020 Spanish F1 GP today. He started from pole and won his 88th F1 race of his career at Catalunya circuit. It was the 107th victory for Mercedes and Hamilton's 4th of the 2020 season.
The start of the race was with out any collision damage. Valtteri Bottas who started from P2 didn't had a good getaway and lost his P2 to Max Verstappen who was right on the tail of Lewis Hamilton's Mercedes.
Lance Stroll also had a very good start. He started from 5th on the grid and overtook his team mate Sergio Perez and Bottas to get P3. Bottas fought back and passed the Canadian on the mainstraight of lap 5 for the podium.
In lap 22 Max Verstappen was the first of the top drivers to do his pit stop to get rid of the soft tyres and continue on the medium tyres. The pit crew did the a very good pitstop that only took 1.9s. 2 laps later both Mercedes drivers also pitted.
In lap 37 the engine stopped in the back of the Ferrari of Charles Leclerc. He managed to restart the car, but by then he had undone his seatbelts and had to pit to have them tightened. At this point, his race was more or less over, so the team decided to retire him.
✅ Check out F1 Standings 2020 Championship
✅ Check out F1 2020 Calendar
✅ Check out All Time F1 Drivers Rankings
✅ Check out All Time F1 Driver Records
✅ Check out All Time F1 Teams Rankings
Classification 2020 Spanish GP
| P | No | Driver | Team | Time | Laps | Grid | Pts |
| --- | --- | --- | --- | --- | --- | --- | --- |
| 1 | 44 | Lewis Hamilton | Mercedes | 01:31:45.279 | 66 | 1 | 25 |
| 2 | 33 | Max Verstappen | Red Bull | 01:32:09.456 | 66 | 3 | 18 |
| 3 | 77 | Valtteri Bottas | Mercedes | 01:32:30.031 | 66 | 2 | 16 |
| 4 | 18 | Lance Stroll | Racing Point | 01:32:06.724 | 65 | 5 | 12 |
| 5 | 11 | Sergio Pérez | Racing Point | 01:32:09.464 | 65 | 4 | 10 |
| 6 | 55 | Carlos Sainz | McLaren | 01:32:11.045 | 65 | 7 | 8 |
| 7 | 5 | Sebastian Vettel | Ferrari | 01:32:23.813 | 65 | 11 | 6 |
| 8 | 23 | Alex Albon | Red Bull | 01:32:25.008 | 65 | 6 | 4 |
| 9 | 10 | Pierre Gasly | AlphaTauri | 01:32:25.597 | 65 | 10 | 2 |
| 10 | 4 | Lando Norris | McLaren | 01:32:26.154 | 65 | 8 | 1 |
| 11 | 3 | Daniel Ricciardo | Renault | 01:32:27.145 | 65 | 13 | 0 |
| 12 | 26 | Daniil Kvyat | AlphaTauri | 01:32:32.998 | 65 | 12 | 0 |
| 13 | 31 | Esteban Ocon | Renault | 01:32:41.207 | 65 | 15 | 0 |
| 14 | 7 | Kimi Räikkönen | Alfa Romeo | 01:32:46.682 | 65 | 14 | 0 |
| 15 | 20 | Kevin Magnussen | Haas | 01:32:54.370 | 65 | 16 | 0 |
| 16 | 99 | Antonio Giovinazzi | Alfa Romeo | 01:32:55.069 | 65 | 20 | 0 |
| 17 | 63 | George Russell | Williams | 01:33:04.656 | 65 | 18 | 0 |
| 18 | 6 | Nicholas Latifi | Williams | 01:31:47.297 | 64 | 19 | 0 |
| 19 | 8 | Romain Grosjean | Haas | 01:32:14.948 | 64 | 17 | 0 |
| DNF | 16 | Charles Leclerc | Ferrari | electrical | 38 | 9 | 0 |
Penalties: Cars 11 & 26 - 5 second time penalties - Ignoring blue flags
Fastest lap: 1:18.183 min by Valtteri Bottas, Mercedes W11 in lap 66 @214.343 km/h
---
✅ Check out more posts with related topics: