Vettel apologises for stealing Webber's F1 victory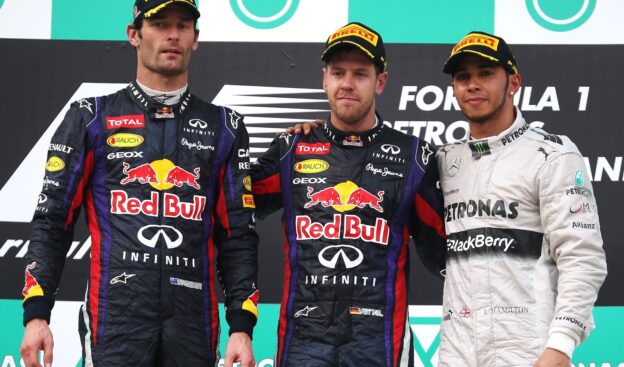 F1 erupted in controversy on Sunday, after Sebastian Vettel ignored a team order to win the Malaysian grand prix.
The German and his teammate Mark Webber were issued a codeword over the radio that meant something along the lines of 'hold position', while the leading Red Bull driven by Webber was nursing his car and tyres to the victory.
"Multi-21, Seb," Webber angrily shrugged at Vettel just before going onto the podium to accept his trophy for second place. "Multi 21," he repeated.
Earlier, Vettel was scolded on the radio for being "silly" as he defied the order and tackled Webber wheel-to-wheel. "You've got some explaining to do," his engineer said after the chequered flag. Webber said afterwards: "The team made a decision, but Seb made his own decision today."
Paddock rumours began to emerge that Vettel, realising the gravity of his actions once the adrenaline of racing had calmed, had apologised to Webber, but the Australian was refusing to accept it.
In his podium interview with Martin Brundle, Webber predicted that Vettel would be "protected as usual" by Red Bull rather than punished. But bosses Christian Horner, and even Dr Helmut Marko, agreed that the triple world champion and new championshp leader had done the wrong thing.
"We let the drivers race until the final pitstop," said Horner, arguing that after that, the team's interest is "bigger" than the drivers'.
Marko, a strong supporter of Vettel's, said the battle "got out of control" at Sepang. "We told the drivers that they should remain in their positions," said the Austrian.
Vettel was apologetic.
"I did a big mistake and I'm not proud of it," he told reporters. "I can't change it now. It's not a victory I'm proud of. It should have been Mark's." But he also suggested he didn't ignore the team order "on purpose".
"He (Webber) was trying to save the car and tyres, but I took a lot of risk in passing him. I didn't ignore that, but I shouldn't have done it," said Vettel. The fallout could be significant. Some interpreted Webber's following comments as a threat to leave the team.
He said he would go home to Australia in the break between now and China to "take my medicine. "It is still very raw," he said on British television Sky. "We'll see if the medicine cures it. "To be honest, a lot of things were going on in my mind in the last 15 laps of the race. "It's very, very, very hard for Seb to sit there (and do that) when we are told to bring the car home safely. "It's very hard for people to understand the situation, they think they know what went on but they don't," Webber continued. "It puts a lot of heat on certain people."
Mercedes' Lewis Hamilton completed a sour-faced podium on Sunday by finishing third, after his faster teammate Nico Rosberg was told by boss Ross Brawn to hold station.
"If I'm honest, Nico should be standing here, he had better pace," said Hamilton. "I can't say it is the best feeling being up here (on the podium)." Earlier, Rosberg pleaded to be able to pass the sister W04, but Brawn's answer was "negative". "Remember this one," Rosberg said over the radio as he pulled into parc ferme in fourth position, but he soon reassured reporters that he understood and respected the team's decision.
Red Bull's Marko, however, said it is obvious that Mercedes wanted its "number 1" driver to finish in front.
What's your opinion? Use our F1 poll.
---
✅ Check out more posts with related topics: