Toro Rosso 2016 Malaysian Grand Prix Preview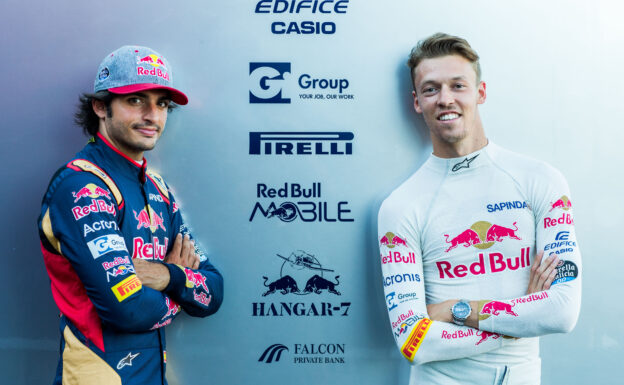 From hot and humid Singapore we move on to warm and sticky Malaysia – the Sepang International Circuit, to be exact! A track of 'firsts' for both our drivers, Carlos Sainz and Daniil Kvyat! "
The first time we went there it was for our first ever races in our lives in Formula BMW!" explains the Russian. "Yes, we were 15 years old", remembers the Spaniard… Two nervous teenagers raced in Sepang for the first time back in 2010 and, as Daniil still remembers, "We also had our first nice little battles on track" and Carlos adds that it was where they achieved "our first ever wins in our Formula BMW careers!"
They both know it's going to be another hot and tough race: ", I remember that last year, the track temperature for the race was 64 degrees" says Carlos, and we just love Daniil's reply… "you could cook a fried egg on the tarmac!" We might just even try it… :-))
So Carlos, Daniil… Next up is the Malaysian GP! What comes to mind when you think of racing there?
Daniil Kvyat: Sepang… What memories! The first time we went there it was our first ever races in our lives in Formula BMW!

Carlos Sainz: Yes, that's correct! It was a special time for us…

DK: We also had our first nice little battles on track, driving side by side at Turns 1 and 2…! So I have a lot of good memories of us racing there, as teammates.

CS: Yes, this was back in 2010, our debut in Formula BMW. It was also during a Formula 1 weekend…

DK: I was a bit nervous!

CS: Especially because it was in front of all the F1 people…

DK: Pressure already!

CS: We were 15 years old, I was also nervous.

DK: Then we went back to race in Malaysia a month later and we were already very fast drivers… I won two races that weekend, and Carlos, you won another two!

CS: Yes, our first ever wins in our Formula BMW careers… Boom!

DK: Sepang is an interesting track. As we already saw in 2010, the first two corners offer a good opportunity for racing and overtaking…

CS: The start there is always exciting as you can take different lines and go very wide into braking…

DK: …Or very tight! CS: What I'd point out is that they've resurfaced the track this year, so the amount of grip might change a bit and let's see how it goes with the Soft compound over there.

DK: It's also very hot, like in Singapore.

CS: Wow yeah, I remember that last year, the track temperature for the race was 64 degrees!

DK: Yeah, you could cook a fried egg on the tarmac! [They both laugh]

CS: But it's still not as tough as racing in Singapore…

DK: That's right, I agree, because the straights are longer and you have a bit more time to relax, it's not all corners and more corners.

CS: So I'd say Malaysia is the second toughest race, after Singapore.

DK: It will be a challenging race, so let's see what we are capable of. The only negative part for us this year is that maybe Sepang has too many long straights…

CS: Yes, that's true. We really like the corner sections like Turns 1 and 2, 7 and 8 or the section that goes from Turn 9 to 14… But not the long straights!

DK: We should build chicanes halfway through every straight! [He says with a giggle!] It would be nice, eh?! Anyway, having chicanes or straights, nothing changes… Their race mode for Malaysia is ON!
---
✅ Check out more posts with related topics: