Red Bull pace underlined in dominant Canada win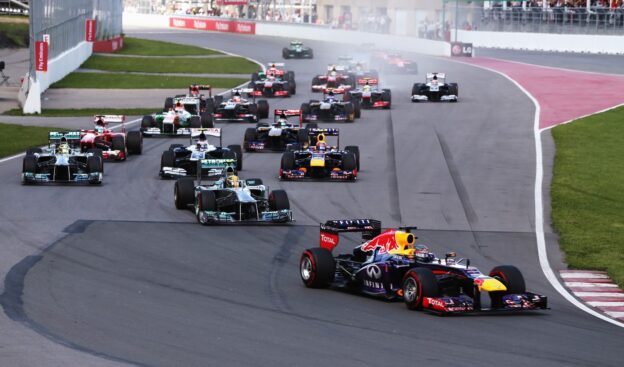 Sebastian Vettel opened up a 36 point lead at the top of the world championship with a scintillating drive druing the Canada Grand Prix which saw him easily win yet again.
The German was untroubled as he showed off the Red Bull's blistering pace to win comfortably by 15 seconds in a race unaffected by tyre management, which has so far clouded over a car's true pace over a whole race distance. Most drivers one or two stopped and were allowed to push their cars to their limits and, pleasantly for once, tyres were an afterthought.
Vettel took full advantage of his pole position in the wet conditions yesterday, which saw his main championship contenders Kimi Raikkonen and Fernando Alonso start well down the grid, to win his first Canada grands prix. Alonso, who started 6th, proved that the Ferrari can match the Red Bull for genuine pace and drove a fine race once again to salvage 2nd after hunting down Lewis Hamilton in the final ten laps. Hamilton settled for third while the sister Red Bull of Mark Webber took 4th despite a damaged front wing suffered at the hands of Giedo Van Der Garde's Caterham.
For Kimi Raikkonen it was a second dismal race weekend in a row as he suffered brake problems on his Lotus and could only manage 9th. The Finn has now fallen almost 46 points behind Vettel and will need to claw some back in Silverstone next time out. The torrential rain which caught out both he and Alonso in qualifying didn't appear on race day leaving bright sun shine at the Gilles Villeneuve circuit.
Vettel left the rest of the field in his wake at the start as Hamilton, starting second, was more occupied by the fast starting pair of Webber and Alonso from behind. From there Vettel was uncatchable and controlled the race from lights out to the chequered flag in what was another flawless display. With the three time champion driving this well in what many consider to be the fastest car it looks very likely that he will add a fourth world crown come November.
Alonso, though arguably the best driver on the grid, faces the same problems he has had in previous years in his battle against Vettel. The consistency of the car is questionable across different types of circuits and his team mate is regularly facing one miss-hap or another and is more often or not 30 seconds off the pace. However Alonso's tactics today was superb again as he out thought his rivals to leap frog them and extract the maximum he could yet again from the weekend.
Monaco winner Nico Rosberg was the best of the rest in 5th while there was a superb drive from Jean-Eric Vergne who showed off the improved Torro Rosso to take a career best 6th placed finish. Paul di Resta was as equally impressive in the Force India as he managed his tyres superbly to claim 7th after starting 19th on the grid, while Felipe Massa progressed from 16th to 8th. For Sauber and Williams there appears to be no light at the end of the tunnel following poor results again. However, both Sauber's retired, while Valtteri Bottas quickly fell back from 3rd to finish 14th for Williams who remain pointless this year.
See Classification 2013 Canadian F1 Grand Prix.
---
Check out more items on this website about: