Massa refused team order 2013 Japanese GP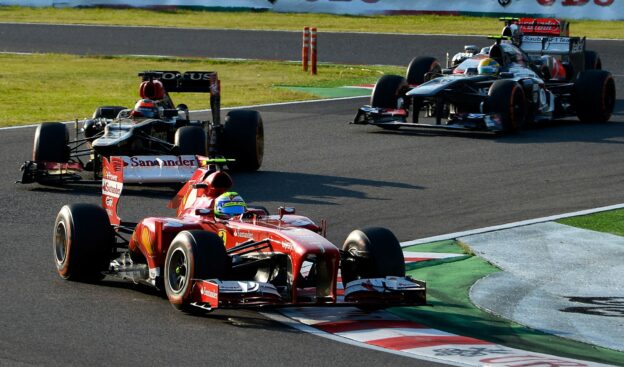 Ferrari has played down Felipe Massa's refusal to obey a direct team order in Sunday's Japanese grand prix.
While running ahead of teammate Fernando Alonso at Suzuka, Brazilian Massa - who is leaving Ferrari at the end of the season - was told by his engineer Rob Smedley to let the Spaniard past.
"Multi-function strategy A. Now, please," Smedley was heard to say on the radio.
Massa refused to either respond or obey, forcing Alonso to pass him in a wheel-to-wheel battle many laps later.
"We cannot make a big thing about it," Alonso said afterwards, hinting he understands Massa's frustration.
"Sometimes it's difficult, especially when you are fighting for seventh, eighth place.
"It would be nice to go back to the old days in Ferrari, fighting for first and second and deciding who wins the races, like Red Bull does," he added.
When quizzed about the 'Multi-function strategy A' command, which is eerily similar to Red Bull's infamous 'Multi-21', Massa readily admitted it was a team order that he refused to obey.
"It was an instruction," the Brazilian confirmed.
"We're never happy with instructions," added Massa. "Whatever happened in the race was not over any instruction; he overtook me on the track.
"We fought on the track," added reiterated.
He is quoted by Speed Week: "I have said several times now that I do not make presents. And I've said that I am racing for me -- I am doing my races."
Team boss Stefano Domenicali played down Massa's defiance.
"I can understand his feeling," he said. "The team will totally support him until the end of the season, no problem."
A controversy was also brewing within the dominant Red Bull team on Sunday, amid suspicions pole sitter Mark Webber's race was deliberately compromised when he was switched from a two to a three-stop strategy.
"All of a sudden we decided to do a three," the Australian, whose teammate Sebastian Vettel extended his winning streak, revealed.
"I was a little bit surprised. I asked was it the right thing to do."
Boss Dr Helmut Marko insisted, however, that the retiring Webber was not 'sacrificed' to help Vettel.
"No!" he told Germany's Bild am Sonntag.
"We chose during the race to change our strategy because we could not assess whether Grosjean is doing two or three stops.
"If we had done nothing, we would have been second and third," Marko added.
---
✅ Check out more posts with related topics: