Liam Lawson (not Ricciardo) is Red Bull F1 reserve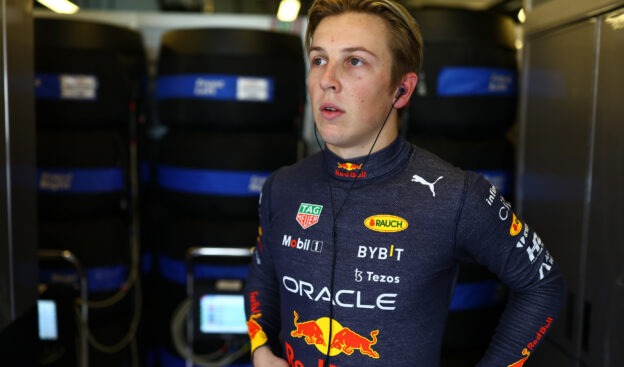 Mar.20 - Liam Lawson looks to be on pole position at Red Bull as the most prominent F1 reserve.
Some were under the impression that Red Bull's high profile signing of former team race winner and axed McLaren driver Daniel Ricciardo meant that he would be in the prime reserve seat.
However, the 33-year-old was not even in Bahrain or Saudi Arabia - although he will be in Melbourne next weekend.
When asked if Red Bull's second team, AlphaTauri, could turn to Ricciardo in Australia in the event that a race driver is unwell, boss Franz Tost said in Jeddah: "Theoretically we could.
"But I would prefer not to see it happen. There are young drivers like (Liam) Lawson, like Dennis Hauger. I think we would focus mainly on young drivers."
Lawson is a 21-year-old New Zealander who raced in DTM in 2021 and last year finished third overall in Formula 2.
This year, however, he will be in Japan's top open-wheel category, Super Formula, driving for the Honda-linked Mugen team.
It is a clear sign that Dr Helmut Marko has bigger plans for Lawson in Formula 1.
"Super Formula is closer to F1 than Formula 2," the Austrian said, "and people are aware of that fact."
The Japanese series is not yet underway, and so Lawson was on duty as Red Bull reserve in Saudi Arabia.
And last week, amid world champion Max Verstappen's apparent stomach virus, Lawson appears to have been put on standby as the potential substitute.
"At the beginning of the week he had a relatively high fever and it was unclear whether he would be fit," Marko told Sky Deutschland.
"It got better from day to day but he was sweating to a degree that he normally doesn't," the 79-year-old added. "He certainly wasn't 100 percent fit."
When asked who would have replaced Verstappen, Marko said at Jeddah: "Liam Lawson, our Formula 2 driver and our Super Formula man in Japan, who was here."
---
✅ Check out more posts with related topics: