Hamilton takes championship lead after Singapore swing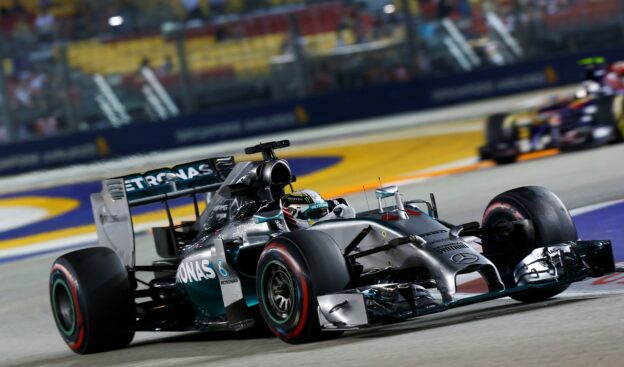 Lewis Hamilton is the leader of the World Championship after a huge shift in fortunes at the Singapore Grand Prix.
Hamilton claimed his seventh victory of the year, while Nico Rosberg retired after a broken steering column ruined his race.
A safety car, caused by the shattered front wing of Sergio Pérez, almost saw Hamilton miss out to Sebastian Vettel. Vettel decided to go to the end of the race on his set of tyres, but Hamilton was forced to stop again.
He built up a massive lead before that stop, but still came out behind the German. Hamilton, on fresher rubber, hunted Vettel and made the decisive, race winning move.
Vettel clung on to his best result of the season ahead of his team-mate, Daniel Ricciardo and Fernando Alonso.
Hamilton now has a three point lead in the championship after Rosberg's retirement. The problem with Rosberg's car was identified half an hour before the race and prevented the steering wheel from working.
After starting from the pit lane Rosberg was clearly much slower than he should have been.
This was caused by problems going up through the gears. After a chaotic pit-stop failed, Rosberg retired.
Behind Hamilton, Vettel made an electric start to get past Ricciardo and then Alonso a couple of corners later.
He kept with Hamilton in the early stages but the Red Bull pace from qualifying was nowhere to be seen.
Vettel was overtaken by Alonso at the second set of pit-stops, just before the safety car that changed the race. Sergio Pérez made contact with Adrian Sutil and his damaged wing spread a lot of debris across the track.
This caused the safety car, at which point Hamilton was the only leading driver who had not used both tyre compounds after Alonso managed to pit. This meant he had to stop again, while the drivers behind him could go to the end of the race.
Hamilton had to build a 27 second lead in ten laps, but despite his incredible pace he couldn't manage it. He came out just behind Vettel but on much fresher tyres. Hamilton breezed past the German and claimed another win this year.
Felipe Massa was the best of the rest in fifth, ahead of Jean-Eric Vergne. Vergne finished strongly as he got past Perez, Kimi Raikkonen, Nico Hulkenberg and Valtteri Bottas in the dying laps.
See Race Result 2014 Singapore F1 GP
See 2014 F1 drivers championship.
See 2014 F1 constructors championship.
---
Check out more items on this website about: