Former Aston Martin F1 boss Szafnauer urges Alpine to catch up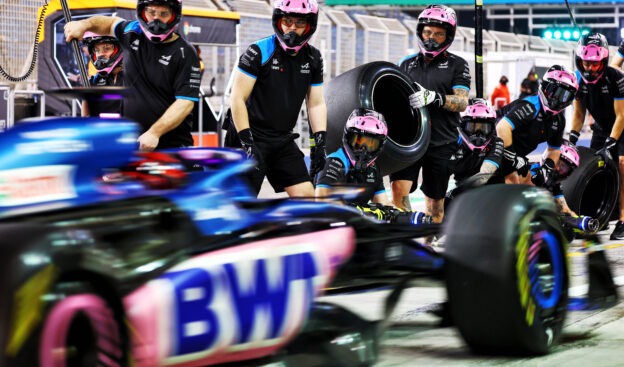 Mar.9 - Alpine needs to take the example of Aston Martin as it continues to push towards the front of the Formula 1 grid.
Last year, Renault-owned Alpine finished fourth overall in the constructors' standings - behind only Red Bull, Ferrari and Mercedes.
Aston Martin, on the other hand, was a lowly seventh.
But over the winter, Alpine's Fernando Alonso switched over to Aston Martin just as the Silverstone based team was completing its 2023 car.
In Bahrain for the season opener, the 41-year-old Spaniard finished on the podium - with Aston Martin now sitting just behind dominant leaders Red Bull in the new constructors' standings.
"Congratulations to them," Otmar Szafnauer, who was the boss at Aston Martin until he switched to Alpine at the start of 2022, said after Bahrain.
"We will do everything possible to get closer."
Alpine had a particularly low-profile winter period, and then a troubled start to the 2023 season with Alonso's replacement Pierre Gasly qualifying dead-last and teammate Esteban Ocon enduring a calamitous race before retiring.
"The Bahrain race was not normal for us," Szafnauer insists. "Normally we don't make operational mistakes and also Pierre started last."
Frenchman Ocon, for instance, ended up serving a farcical three penalties during last Sunday's race.
"The first was because he was out of position at the start," Szafnauer said. "He then missed a second at the pitstop before they started to work on the car.
"We have a sound system in the mechanics' headphones that was four hundredths ahead of time," he is quoted by the Spanish newspaper AS.
"The third was for speeding when I think it kicked in half a meter late. They are all operational errors."
As for Ocon's retirement, Szafnauer explained: "It was a little hot and we didn't want it to suffer major damage."
However, he said Ocon's pace in qualifying was actually not far from Aston Martin's.
"I think Lance (Stroll) was just ahead of us, but I still don't know if in a normal race we can beat them," said Szafnauer. "We will reflect. We are not where we want to be."
Aston Martin is already facing criticism for the similarity between its new car and last year's title-winning Red Bull, but Szafnauer actually defends his former team.
"To be fair, it was always a good and efficient team," he said.
Some, however, are wondering how Aston Martin could make such a meteoric leap over the winter despite sharing a wind tunnel with Mercedes.
"The Mercedes wind tunnel is very good and I don't think sharing it is a penalty, because otherwise people wouldn't do that," Szafnauer said.
"Congratulations to them, but was exactly the same team in 2016 and we () were fourth with a lot of race pace.
"What we (Alpine) need to do now is to get closer every year. Aston made enormous progress and we must do it too," he added.
Curiously, however, he is still maintaining the line that Alpine was right to only offer Aston Martin's new 41-year-old star Alonso a short contract renewal last year.
"He is enormously motivated - he lives for this," Szafnauer said. "With Lance injured, it seems that Fernando fought very hard for those positions.
"The point is that age catches up with all of us," he added, "although I have no idea when."
---
✅ Check out more posts with related topics: