Five things learned after first day of practice in Jeddah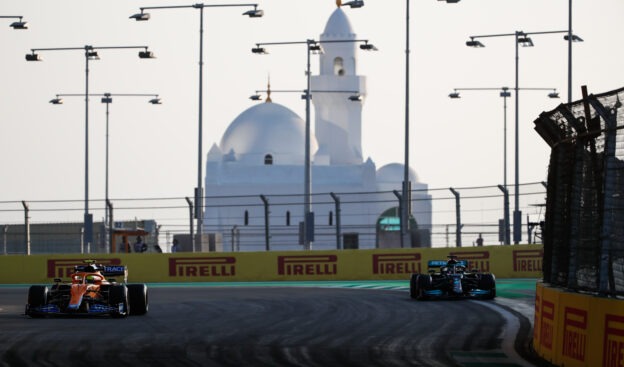 Dec.4 - The first day of practice on the brand new high speed circuit is behind us. Here were five things we learned during those two free practice sessions. The FP1 was driven during daylight, while the FP2 was driven after sun set.
Lewis Hamilton went fastest in both free practice sessions today as Jeddah – the fastest street circuit in the world – made its debut. In FP1, the Mercedes driver went quickest on the P Zero Red soft C4 tyre while he set the fastest time of the day on the P Zero Yellow medium C3 in FP2, ahead of his team mate Valtteri Bottas.
With similar temperatures, both sessions could be relevant to what the teams will face in qualifying tomorrow and the race on Sunday. As expected, the weather was warm and dry all day, with around 29 degrees ambient and 30 degrees of track temperature.
Although there was a high degree of track evolution, the track was surprisingly grippy right from the start of the day also thanks to high-pressure water cleaning (as was the case in Turkey).
With Jeddah being a brand new circuit, the drivers concentrated on understanding the balance of the car with different tyres and fuel loads. Qualifying is set to be particularly important, so many teams focussed their efforts on outright lap times.
The performance gaps up to now between the compounds are in line with expectations, with an estimated difference of around 0.6 seconds between P Zero White hard C2 and medium, and approximately 0.3 seconds between the medium and soft. The combination of the small gap between soft and medium and the management required on the soft could lead to many drivers selecting the medium in Q2 tomorrow.

Mario Isola - Pirelli's Head of F1 & Car Racing said: "Free practice today was especially important at this brand new venue with such high speeds, but most of the drivers were surprised by how much grip there was right from the start of the day, although the track continued to evolve. With an emphasis on data collection, the teams ran all three compounds in both sessions today. In FP1, we noticed some graining, especially on the soft, and some blistering on all compounds, which was reduced in FP2 as the teams improved their knowledge of the circuit and optimised car setup.
This trend is set to continue over the rest of the weekend. The drivers seemed particularly confident on the hard and medium tyres, which enabled them to push hard, whereas the soft tyre requires a bit more management and was less favoured, probably due to tread movement. The first read that the teams have on the tyres confirms the reasonably small performance gap here between the soft and the medium tyre, which will definitely have an effect on qualifying strategy tomorrow."
---
✅ Check out more posts with related topics: